Don't want to watch monotonous channels while staying in a hotel? No problem! You can stream your favorite videos from your device to TV using Google Chromecast.
Chromecast is the best option to cast music, audio, videos, and photos onto your TV. With this, you can access your favorite content from 1,000+ apps.
It will take a few simple steps to get started –
Connect your device to the Wi-Fi network shown on your TV.
Access getstreaming.tv.
Enter the TV code and Connect.
Follow the step-by-step method below and stream your favorite content from your favorite streaming app.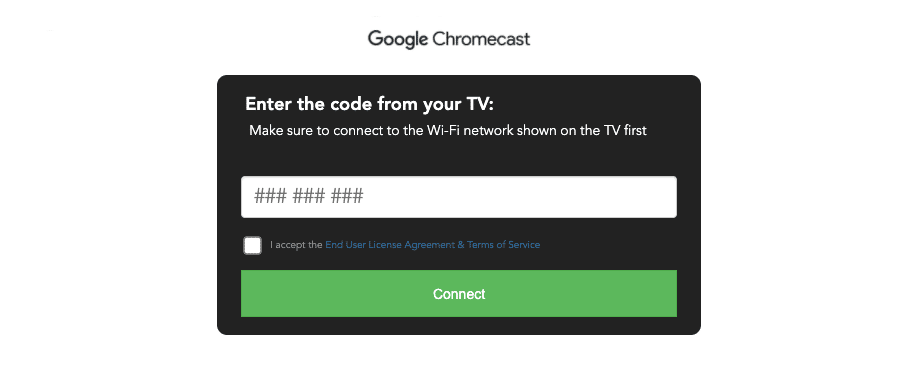 How to Pair your TV with Chromecast using getstreaming.tv [2023]
Google Chromecast powers the streaming feature on your interactive TV. So, you will have to begin by tuning the TV to the Chromecast. Here's a simple rundown of steps to carry out the process.
Turn on your TV.
Access the channel guide or the interactive TV menu by using the remote.
Select Google Chromecast on the main menu.
Now, choose the Chromecast channel in the channel guide. Or, you can switch to the HDMI input using the TV remote.
You will now see a screen with the website link and pairing code.
Connect your mobile phone to the same Wi-Fi network that appears on the TV screen.
Once connected, visit getstreaming.tv on your device.
Enter the 9-digit code from your TV screen and tap the Connect button.
Your TV is now paired with your phone (iOS or Android).
Open any cast-enabled app on your phone. For example, you can open YouTube on your mobile phone and tap the Cast icon that appears on the screen.
Your TV will now stream the content you play on your mobile device.
---
How to Fix Chromecast Casting Issues?
If you can't cast videos from your device to TV using Getstreaming.tv, here are some troubleshooting tips.
Make sure you use the correct Wi-Fi network. (Check your TV screen to get the right network.)
You should always cast from a supported app (Netflix, YouTube TV, Hulu, Disney+, HBO Max, and Prime Video).
Check whether you have the latest version of the app installed. Update the app if required.
These are some handful troubleshooting tips to get rid of the casting problem.
There are cases where people don't see the Cast button. If you experience the same problem, close the app and open it again after 10 seconds.
---
Devices Compatible with Chromecast
If you wonder what devices are supported, here's a complete list.
iPhone
iPad
Android
Laptops
Computers
While using computers and laptops, ensure these devices meet the casting system requirements. Chromecast is available on all platforms, including Linux, Mac OS X, Chrome OS, and Windows.
Take a look at the minimum requirements to set up Chromecast.
Windows Operating System:
Core i3 or equivalent
Windows 7 or later
Apple OS X:
MacBook Pro
MacBook Air
OS X 10.9 or later
---
What apps can I use to stream content on the big screen?
You can stream 1,000+ apps across TV & Movies, Music & Audio, Photos & Videos, Sports, and Fun & Games. Some of the popular apps are –
MBL.com
Sports
Willow
CBS Sports
Just Dance Now
Draw Party
YouTube
Chrome
FuboTV
Audacy
Netflix
HBO Max
---
Frequently Asked Questions
Can I use my phone while casting?
Yes, absolutely! You can watch movies and TV shows on the big screen while using the phone to make calls or texts.
Can I cast from my laptop or computer?
Yes, you can do that by using the Chrome browser. First, launch the Chrome browser and access getstreaming.tv. You will be prompted to use the code from your TV screen.