January 22, 2020 / Admin
How to Activate Kohl's Charge Card?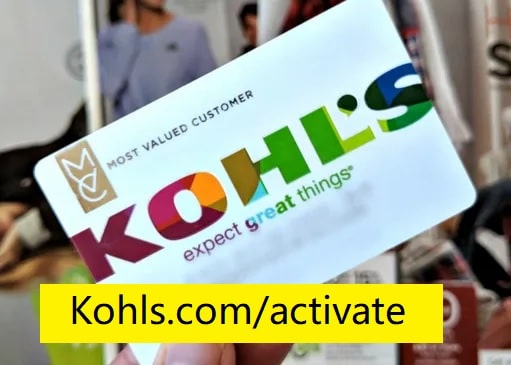 Kohl's is a popular departmental store retail chain, managed by Kohl's Corporation. Having more than 1158 stores throughout the United States, it is considered among the biggest departmental store chain in the country. The company is listed on both the Fortune 500 and the S&P 500. Whether you are looking to purchase products or services according to the categories related to Active & Wellness, Home, Bed & Bath, Furniture, Toys or for Women, Men, Kids, Baby etc. you can easily browse and make a purchase through the wide range of products and services available at Kohl's.
Like the availability of varieties of products, there are different ways to make the payment. In addition to the usual mode of payments like debit card, credit card, digital wallets etc. one can also make payment using Kohl's Charge Card. Well, if this is your first time using Kohl's charge card, you will first need to activate it in order to use it. To know how to activate your Kohl's charge card, go through the information provided below.
Guide to Activate Kohl's Charge Card
If you have recently got a charge card from Kohl's and you wish to use it for making payments of your purchases made on their website, below are the steps that you will need to follow:
In order to activate your new card, you will need to log in or register on My Kohl's Charge website.
In case you are looking to activate your card using a mobile device, unfortunately, there is no option available for it yet.
Alternatively, you can also activate your Kohl's card by presenting your photo ID along with your card when making your next purchase. Also, you can simply call (800) 954-0244 to get your card activated.
You can activate your Kohl's card as soon as 24 hours after a card has been requested. However, it is suggested not to try activating your card until you have received your card in the mail.
Sign in to your Kohl's account using your registered User ID and Password. Once you are logged in to your account, you will need to go to the Account Summary
In the Account Summary tab, you will need to press the Activate Now button next to the message which reads – Have a new card to activate?
Then, follow the on-screen prompts to complete the activation process of your Kohl's charge card.
Frequently Asked Questions Related to Kohl's Charge Card Activation
The following are some of the most common questions (with answers) asked by Kohl's customers when trying to activate their Kohl's Charge Card.
Q1. Can I use my Kohl's card for shopping after I have activated it?
A1. Yes, once you have activated your Kohl's card successfully, you can start using for making purchase at any location of Kohl's store or online at www.kohls.com.
Q2. Is it possible to activate other cards on my Kohl's Charge account?
If you are a primary owner or authorized user, you can easily activate all your cards on the account. However, you will be able to do so only when you will be a primary owner or authorized user.
Q3. Is it possible to use my old card even after I have activated my new Kohl's Charge card?
A3. Once you activate your new Kohl's card, this doesn't deactivate your old card. You will need to call Kohl's customer support to get your card deactivated. Also, make sure to cut up and discard your old card to prevent it from getting misused.
Forgot your Kohl's Account Password?
Your Kohl's account stores and manages all your purchases and transactions done on Kohl's store or online. So, you would always want to keep your account protected against intrusion. However, if you ever forget the password of your Kohl's account, you can recover it by following these steps:
If you forget the password of your Kohl's account, you will need to re-register your account.
To re-register your account, you will be prompted to complete verification by a temporary identification code.
This one-time passcode is generated automatically with alphanumeric characters that help in authenticating your identity. You might be asked to provide such passcode in situations where an extra level of account production would be needed.
So, these are the steps that you will need to follow in order to activate your Kohl's charge card
One response to "How to Activate Kohl's Charge Card?"
---
---
---
---