The American bank holding company Capital One Financial Corporation has three major divisions – consumer banking, commercial banking, and credit cards. The company can help you with a wide range of banking services, including car loans, saving accounts, auto loans, credit cards, etc.
Apply for a Capital One credit card if you are in a bad financial situation or want financial independence. After receiving your new card, you need to activate it at capitalone.com/activate. After successful activation, you can use the Capital One credit card for making purchases and payments.
Follow the information suggested below to activate your Capital One credit card online at capitalone.com activate URL, via mobile app, or over the phone.
Platinum Card Activation Link – platinum.capitalone.com/activate
Activate Capital One Credit Card at capitalone.com/activate
As soon as you receive your new Capital One credit card, here's what you should do to activate your card.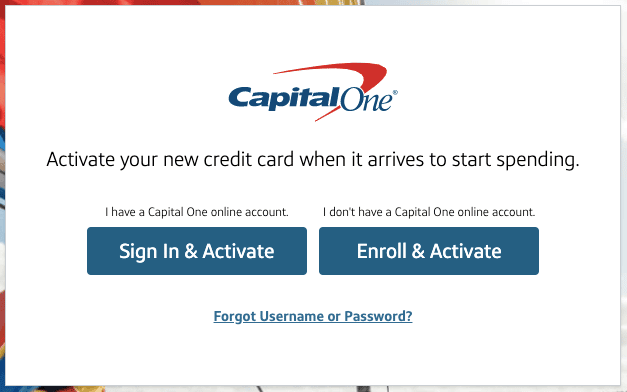 Visit capitalone.com/activate.
Click the Sign In & Activate button to log in to your Capital One online account. If you don't have a Capital One online account, set up a new one by clicking the Enroll & Activate option.
Click the Activate Your Card option on the account details page.
Locate your new card and enter the 3-digit security code (you will find it on the back of the card).
Stick to the on-screen directions to activate your Capital One card.
How to Activate Capital One Card via Mobile App
The Capital One mobile app lets you easily activate your Capital One debit or credit card. For that, you must have an Android or iOS device.
Install the Capital One app on your phone or tablet.
Log in to the app using your online account credentials.
Once logged in, select the Activate My Card option and follow the steps provided.
If prompted, enter the 3-digit security code to finalize the activation process.
After successful activation, you will see a notification that reads – "Your card ending **** is activated and ready to use!".
Activate Your Capital One Credit Card Over the Phone
To activate your Capital One credit card by phone, call the card activation phone number on the back of your new card. Then, enter your card security code when prompted and follow the rest of the on-call prompts. After providing all the required details, your card will get activated instantly.
Note: Also, make sure to call from the phone number from your registered mobile number. Else, you need to answer the security question.
How to set up online access to activate my card?
To enroll and activate your new credit card –
Open capitalone.com/activate on a computer or mobile device.
Choose the Enroll & Activate button.
Enter your Personal Information – Last Name, Social Security Number, or ITIN. (Or, you can use your bank account number if you don't have SSN or ITIN details).
Provide your Date of Birth details and click Get Started.
Steps to Link Your New Capital One Card to Existing Account
If you have multiple Capital One credit cards and your existing card is already registered to an online account, you must link your new card to your existing one.
We have drafted easy steps to link your new Capital One card to your existing online account –
Go to the Sign In page.
Enter your Username and Password in the prompted fields.
Click the Sign In button.
Once signed in, follow the instructions provided under Consolidate Your Accounts section.
Your new Capital One card will be linked right away. Now use the account credentials to activate your new card at capitalone.com/activate.
Recover Your Online Account Username or Password
Following the steps below, you can recover your existing online access username or password from the capitalone.com activate page –
Go to capitalone.com/activate and click the Forgot Username or Password link.
Enter details like your Last Name, Social Security Number, and Date of Birth on the next page.
Then, click the Find Me button.
After that, follow the on-screen instructions to recover your account credentials.
For Assistance
If you need help, consider reaching out to the professionals. The online chat option is quite handy. You can find the chat support option on the sign-in page. Click the "Need Help? Let's Chat! option" on the sign-in page to connect with a customer support representative.
Frequently Asked Questions
How can I check the status of my Capital One credit card application?
When you apply for a Capital One credit card by phone or online, you usually get a response in 60 seconds. However, sometimes additional information may be requested by Capital One before approving or denying your application. You can call 1 800 903 9177 to check the status of your application. Also, note that Capital One notifies the approval/denial (in writing) within 7 to 10 days of your application.
How long does it take to receive my new card once approved?
Generally, you receive your Capital One card and a welcome kit within 7 to 10 days via mail.
Is it possible to add a user to my card?
You can add additional users to your Capital One credit card by using the online account. If you can't sign in online, consider calling the phone number provided on the card. Remember that only a primary cardholder, secondary cardholder, small business manager, or power of attorney can add an authorized user.