Picture this – plug Roku streaming player into your TV, connect to the internet, configure a Roku account, and stream favorite shows, videos, and movies. Can your TV-watching experience get more exciting, engaging, and simpler than this?
Roku – An Ultimate Gadget for Endless Entertainment
If streaming is the new name of entertainment, Roku, from Roku, Inc., is a big name in the video streaming industry. Introduced back in 2008, it has come a long way and has undoubtedly changed the way people used to watch TV. It allows you to stream your favorite content (both free and paid) on TV using the internet.
Got a new Roku streaming media player? There you go! This page will help you activate your new Roku device at roku.com/link.
roku.com/link is the official link to activate your new Roku streaming device. So, set up the device, get the Roku link code, and navigate to the activation page to initiate the activation procedure.
Read this post for information about the complete setup process, creating a Roku account, adding an app using activation code, and top fixes when the streaming device doesn't work.

Activate Roku TV, Player, streaming stick using roku.com/link
Before you go ahead with the setting up process, check the type of Roku Streaming device you have – Roku Player or Roku Stick. Both the devices will need a TV with at least one HDMI port. Now, let us walk you through the activation process –
For the Roku Player, plug one end of the HDMI cable into the Roku Player's port located at the back. Plug the other end on the HDMI port of the TV. For the Roku Stick, plug the HDMI of the Roku Stick into the HDMI port of your TV.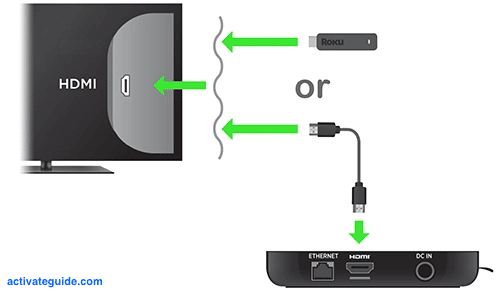 Next, attach the Roku device to a power source. On your TV, select the HDMI slot in which you have plugged in the streaming device. Now the Roku setup screen will appear.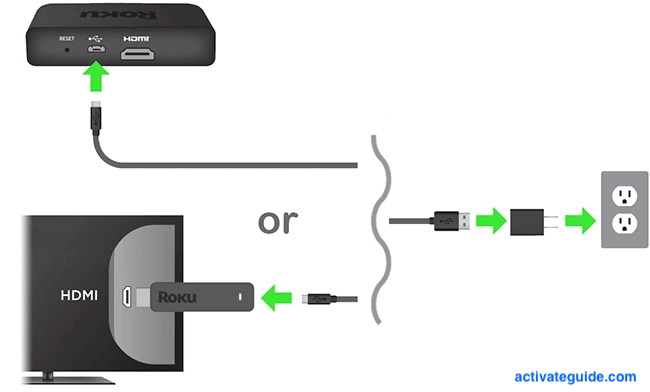 On the Roku setup screen, select a language using the arrow button and press the OK button on your remote.
Now, connect your Roku device to a network by choosing the Wireless or Wired option (Roku stick uses only Wi-Fi, while Roku player box and TV use both Wi-Fi & Ethernet).
Note: Your Roku device (stick, box, or TV) won't work until connected to the internet.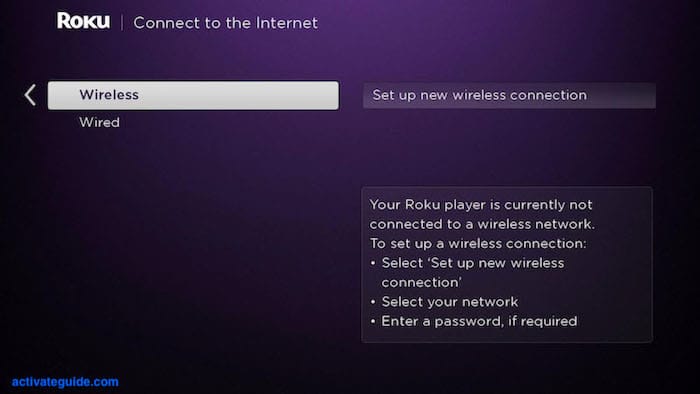 Choose the wired option if your Roku player is connected to a router with an Ethernet cable. If you are selecting the wired option, skip Step 6.
If you choose the Wireless option, click Set up a new wireless connection. Select your Wi-Fi network from the list, enter your Wi-Fi password using the Roku remote, and click Connect. If your Wi-Fi network is not on the list, scroll down and select Scan again to see all networks.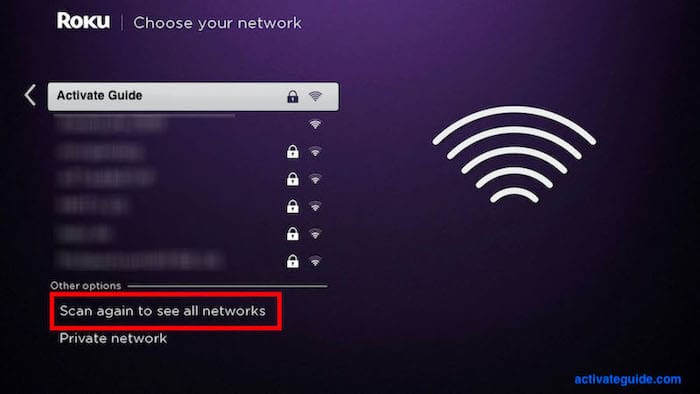 If prompted, download the latest software, and follow the on-screen prompts to update.
Now, you need to confirm the Display Settings.
For the Roku Player, the best HDTV display settings will get configured automatically.
For the Roku Streaming Stick, select Set display type and follow the screen prompts to run the setup process.
For Roku Streaming Stick+, select Auto-detect display type and follow the on-screen prompts.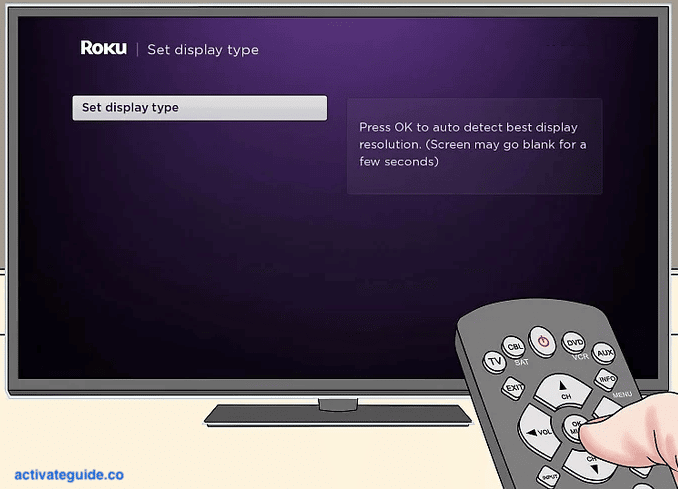 Now, select the Check remote settings option if you like to use your Roku remote to control features like volume, power, etc. Otherwise, select the Skip option to activate and link your Roku account.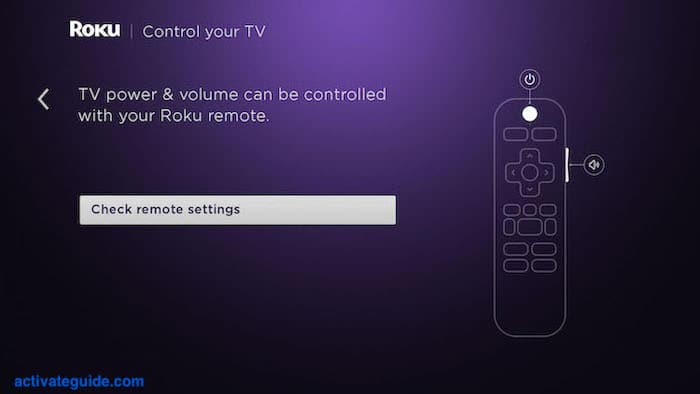 You need to create a Roku account and link your Roku device. (If you already have a Roku account, you can connect it with the device.) Here are the steps to link your Roku account with your Roku device using roku.com/link –
Note: Creating a new Roku account is always FREE. Roku does not charge for device activation. However, enter roku.com/link carefully into your web browser to avoid fraudulent websites.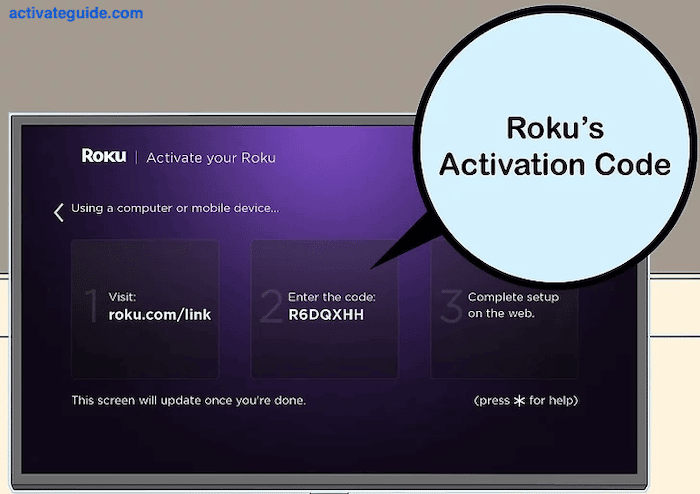 Once you are done with Step 9 instructions, a five-seven-character activation code will appear on your screen.
Now, access the official Roku activation page (roku.com/link) on your computer or mobile browser. 
Enter the activation code in the space provided to link your Roku TV, streaming player, or stick with your Roku account.
Once linked, your Roku device will provide you access to over 100,000+ movies and TV shows. All the free and purchased channels on your Roku account will be available on your Roku device.
Note: Your Roku device will not get activated until you complete all of the steps on the website roku.com/link.
After successfully entering the activation code, sign in to your Roku account. If you already have a Roku account, click sign in under the "I already have a Roku account" option. If not, follow the on-screen instructions to create a new Roku account.
How to Create a Roku Account?
Visit my.roku.com/signup
Enter your first name, last name, email address, and password in the provided fields.
Then, select the checkbox next to the following options:

I am 18 years or older.
I agree to the Terms and Conditions. I have read the Privacy Policy.
Email me product tips, the latest releases, hot new channels, and customer-exclusive discounts. (I can always opt-out later.)
I'm not a robot.

After that, click on the "Continue" button.
Doing so will direct you to the next screen, where you will be prompted to choose from the following PIN preference options:
Always require a PIN to make purchases and add items from the Channel Store.
Always require a PIN to make purchases.
A PIN is not required to purchase or add any item from the Channel Store.
After selecting the desired PIN preference, click Continue. If you have chosen one of the first two options, enter the desired PIN in the prompted fields and tap the Continue button.
This will direct you to your Roku account. 
NOTE: To link your Roku device to your account, click on the +Link a device button provided in your Roku account.
How to Add channels on your Roku device?
Press the Home icon button on your Roku remote to get to your device's home screen.
Next, go to Streaming Channels > Search section.
In the Channel Store, you will see different categories like Feature | New | Popular to explore various apps available. Also, you can find a particular app using the Search Channels option.
NOTE: When you are trying to browse lists or channel grids, you will need to press the Reverse scan button or Forward scan button on your Roku remote to jump up or down one page at a time.
To know more about a channel, press the OK button on your Roku remote to expand the information for the selected app. The information usually includes a synopsis, rating, and shows offered.
If the selected channel is "Free", you can tap the Add Channel option next to it to begin its installation.
However, if the selected channel is "PAID", tap the Buy $$$ to buy and install it.
Also, if you have a Roku account PIN configured, you will be prompted to enter it in the prompted field to purchase the channel/app. After providing the PIN, continue with the on-screen prompts to add the channel to your account.
NOTE:
If the payment information provided is out-of-date, make sure to update it to complete your purchase.
The installed app/channel will be added to the list of channels under Home on your Roku device's main screen. 
To Install Themes and Screensavers
When you install a Theme or Screensaver on your Roku device, it will be installed in the list of themes or screensavers section of your Roku account. This section is available under Settings > Themes and Settings > Screensaver on your Roku device.
Also Read: Best 5 Roku Screensavers
Troubleshooting Guide
To Resolve Internet Connectivity Issue
A properly-working internet is vital for streaming installed applications. If you are having trouble connecting your Roku streaming player to your internet network, consider the following workarounds.
Make sure that you are entering the correct name for your wireless network. 
After selecting the wireless network from the list to connect your Roku device, make sure that you are entering the password correctly
Check your internet network's performance. For this, open a random website on your phone/pc to see if they are loading as expected. If you find that websites are not loading as expected, address issues with your internet first.
Consider restarting your Roku device and your router. To restart your Roku player, go to Settings > System > System Restart.
Make sure your wireless internet is providing strong signal strength for your Roku device.
Avoid downloading or uploading anything when using your Roku player for streaming. Also, if you have multiple internet users at home, consider increasing your internet speed for uninterrupted streaming.
roku.com/link not Working – How to Fix
If you find roku.com/link not working when trying to activate a channel using your Roku account, numerous reasons can be responsible for it. Below are some common workarounds that can help you overcome the problem.
Make sure that your internet network is working correctly. Sometimes the problem may arise when your internet connection is not working properly. In such a case, you may face trouble accessing the roku.com/link page. Refer to the suggested provided above.
Most web browsers are configured to store cookies and cache of the website you visit to provide you with a better experience and learn your web browsing behavior. If you have a lot of cookies and cache stored in your browser, you might face trouble activating your desired channel on roku.com/link. Therefore, clear the cache and cookies from your web browser and then try to activate a channel in your Roku account.
Having an outdated or incompatible web browser can also lead to different issues, including roku.com/link not working. So, it is recommended to check whether the web browser you are using to access roku.com/link is up-to-date or not.
If you have been using your Roku streaming player for quite a long, you may consider restarting your device before looking to add a channel to your Roku account.
Ensure you enter the correct address in your web browser to get to the activation page. The valid address to get to the Roku activation page is https://my.roku.com/link.
If you cannot overcome the problem even after considering the workarounds mentioned above, you may wait for some time before you try to follow the activation process. This is suggested because sometimes, the problem could be at Roku's end, and it may take a while before you can access the page.
Frequently Asked Questions
How can I cancel or unsubscribe from a subscription?
– Go to your Roku device's Home screen.
– Highlight the channel you wish to cancel or unsubscribe from.
– Tap the "*" button on your remote to expand the options menu.
– Next, select the Manage subscription option to check the renewal date and other options.
– Now, to unsubscribe, tap the Cancel subscription option. This will display a message providing the duration of continued access, content, and services.
– Again tap the Cancel subscription option when prompted. Doing so will display a cancellation confirmation and your last day of access to the app/channel in question.
– Finally, tap the Done option.
How to change the payment method?
– Access my.roku.com.
– Sign in if required and select the Update option under the PIN preference.
– Next, navigate to Making purchases and adding content, and choose one of the following options from your screen:
1 Always require a PIN to make purchases and add items from the Channel Store.
2 You always need a PIN to make purchases.
– Then, navigate to Change current PIN option. If you don't have a PIN yet, select the Create PIN option.
– Enter the PIN of your choice and tap the Save Changes option.
How to configure a Parental Controls PIN for The Roku Channel?
– Go to my.roku.com.
– Next, access the PIN preferences section.
– Under Pin Preferences, go to Parental Controls for The Roku Channel and choose from one of the following options provided on your screen:
1. Little Kids -Content rated G and TV-Y, TV-G may be watched without a PIN.
2. Young Kids – Content rated PG, TV-Y, TV-G, TV-Y7, and TV-PG may be watched without a PIN.
3. Teens – Content rated TV-14, PG-13, PG, TV-Y, and TV-G may be watched without a PIN. 
– Then, navigate to Change current PIN section and enter the PIN you wish to use. If you don't have a PIN configured, tap Create a PIN.
– After that, tap the Save Changes option, and you are done.