If you encounter error code p-dev302 when using Hulu to stream shows, videos, or TV channels, in that case, you may experience various issues like frequent buffering, connectivity errors, skipping, poor video quality, or freezing videos.
Generally, the P-Dev302 error code occurs either due to a connectivity issue between the Hulu application and Hulu server or a problem with your internet network.
In this guide, you will find a couple of ways to fix the Hulu error code p-dev302.
Guide to Fix Hulu Error Code P-dev302
Before moving with the workarounds below to Fix Hulu Error Code P-Dev302, contact Hulu Support to ensure that the problem is not from their end. If everything seems adequate at Hulu's end, you can follow the suggestions prescribed below.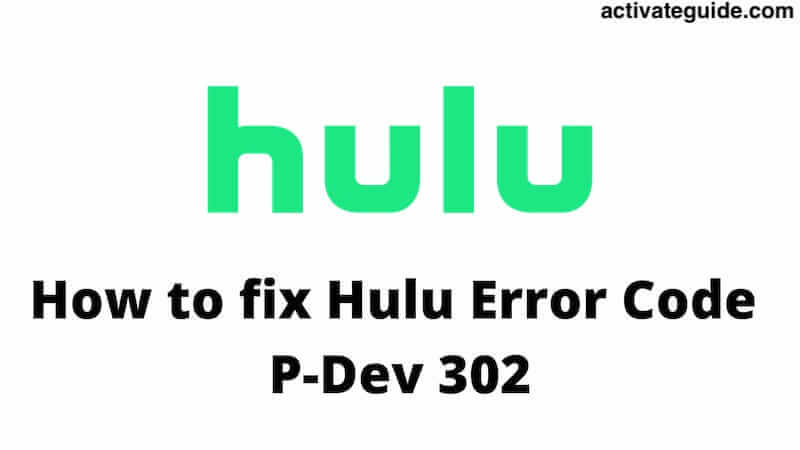 Begin With Basic Troubleshooting Solutions
Before considering any advanced workarounds to fix the Hulu Error Code P-dev302, it is best to inspect the common reasons that prevent the Hulu app from functioning correctly.
Check and address issues with your internet connection (if any).
Check the router settings and Ethernet connection.
Close and re-launch the Hulu application on your device.
Restart your streaming device.
Restart your internet modem/gateway.
After considering these recommendations, move to the next solution if the problem persists.
Use an Updated Hulu Application
Sometimes the Hulu Error Code P-dev302 can also occur when using an outdated version of the Hulu app. In such a case, it is suggested to update your Hulu application by following these steps:
On your streaming device, launch the application store. For example, if you access Hulu on Apple TV, go to the App Store.
Find the Hulu app in the App Store.
When found, select the Hulu app and check if an update is available for it.
If it is available, follow the on-screen prompts to install updates.
You can then launch the app and see whether the issue is fixed.
Clear Cache file from your Hulu Application
While temporary files and data are usually stored on devices to enhance an app's overall performance, cached files can sometimes become corrupted and lead to streaming issues, including P-Dev302 Error.
In this case, clearing these corrupted files (cache) of your Hulu application can quickly fix the problem. Below, you can find the information on removing the cache of the Hulu app for different supported devices.
iPhone and iPad: Visit Settings > General > iPhone Storage > Hulu > Offload App. If your iPhone doesn't offer the option to clear cache, uninstall and reinstall the Hulu app.
Apple TV: You can't clear an app's cache on Apple TV. The only way to do it is by uninstalling/reinstalling the Hulu app.
Android Phone And Tablet: Navigate to Settings > Apps > Hulu > Storage > Clear Cache and Clear Data.
Android TV: Go to Settings > Applications > Hulu > Clear Cache and Clear Data.
Fire TV and Fire TV Stick: Access Settings > Applications > Manage Installed Applications > Hulu > select both Clear Cache and Clear Data options.
Xbox One: Go to My Games and Apps > Apps > Hulu > press the Menu button on your gaming console controller (three parallel lines) > More options > Manage App > Clear the Saved data.
Xbox 360: Press the Guide button > Settings > System Settings > Storage > Memory Unit > Games and Apps > Hulu > Delete > Yes.
Nintendo Switch: Select System Settings > Data Management > Manage Save Data > Delete Save Data > select Hulu and confirm your action.
PlayStation 3: Head to the Game tab from the XMB > Game Data Utility > Hulu > press the triangle button > Delete and confirm.
PlayStation 4: Launch Settings menu from the top of the dashboard and go to Storage > System Storage > Saved Data > Hulu > Options > Delete.
Uninstall and Reinstall the Hulu App
If none of the above-mentioned solutions help you fix Hulu Error Code P-Dev302 on your streaming device, it is best to uninstall the app and install it again on your device. The fresh installation is likely to clear any unknown reason causing the error. However, remember that you will need to activate the Hulu app again after reinstalling it on your device.
Frequently Asked Questions
I see the P-Dev302 Error in Hulu App on Vizio TV, but it's working fine on my Fire TV. How to fix it?
It has been seen that the Hulu error P-Dev302 error generally occurs on Vizio TV. If you also see this error on your Vizio TV, restarting or resetting your smart TV can help fix it.

To Restart Your Vizio TV
Restarting your smart TV will clear your TV's memory and its applications and boost its processing speed.
– Turn off your smart TV.
– Wait for at least 30 seconds before you turn on your TV.
– Now, access the Hulu app. The error should get cleared.

To Reset Your Vizio TV
In case restarting your smart tv doesn't clear the error code, you can reset the settings of your TV by following these steps:
– Press the menu button on your Vizio TV remote.
– Navigate to the System option and press OK.
– Then, select the Reset & Admin option and press OK.
– After that, locate the Reset TV to Factory Defaults option and choose OK.
– Your Vizio TV will reset to factory defaults.
– After resetting, check if the error code p-dev302 is cleared.
How to update my Fire TV device?
You can easily update your Fire TV device by navigating to Settings > My Fire TV > About > Check for System Update. If an update is available, install it on your Fire TV.
How can I deactivate/reactivate the Hulu app from my device?
To deactivate/reactivate the Hulu app on your device, remove the device from your Hulu account page. Once removed, reactivate your device by launching the app and following the on-screen prompts.
What are different Hulu plans available?
Hulu: $6.99/Monthly ($69.99/Yearly)
Hulu (No Ads): $12.99/Monthly
Hulu + Live TV now with Disney+ and ESPN+: $69.99/Monthly
Hulu (No Ads) + Live TV now with Disney+ and ESPN+: $75.99/Monthly