Finally, the much-needed weekend has come, and you are all set to watch your favorite show on your TV. To make it more relaxing and laidback, you have your favorite snacks by your side. As you turn on your TV-connected device with binge-watching hopes (watch free live TV) only to find Plex not working on Roku.
This is the ultimate disappointment as you wouldn't just sit back and miss out on your favorite movies, TV shows, music, news, and sports.
Plex, developed by Plex, Inc., is one of the most sought-after streaming media services that let you watch many movies, TV shows, sports, news, and more. What's more? You can also add your own movies and music collections to the Plex app.
The Plex app supports all leading streaming devices and smart TVs. Also, you can use your Chromecast to stream over 50,000 free on-demand titles and watch over 250 Live TV channels.
Today in this blog, let's troubleshoot the – Plex not working on Roku – issue.
Plex Not Working on Roku – Reasons and Troubleshooting Tips
There may not be a single reason why you can't access Plex on Roku. So, here are the troubleshooting tips to fix the "Plex not working on Roku" issue.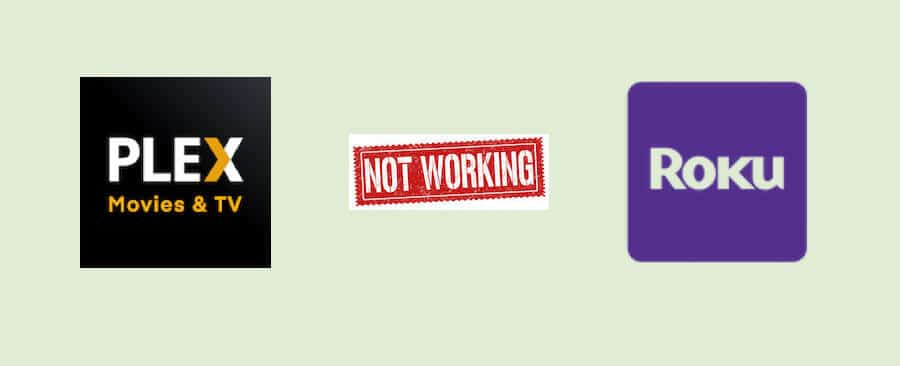 Check Your Internet Connection (Wi-fi Network)
Before anything else, troubleshoot the issue by checking your internet connection. First, ensure that you access the internet on your Roku device. If you can't use the internet on Roku, contact your ISP and address the issue immediately.
Can't Access Plex due to Insecure Connections
Sometimes the problem can also occur when the Plex app is not allowed for insecure connections. So, you need to ensure that you have permitted the Plex app. For this, you will need to go to the Advanced Options of your Plex Roku app and enable the Allow Insecure Connections option to Always.
Once this issue is addressed, you can stream Plex on Roku without a problem.
Uninstall and Reinstall Plex on Roku
Despite trying the above troubleshooting tips, if you still experience the issue, consider uninstalling and reinstalling the Plex app on your Roku device. Try accessing the Plex app to stream movies and shows on Roku now.
Update Roku Streaming Device
Sometimes a recent update prevents you from accessing Plex on Roku. If you are using an updated Plex app, make sure your Roku device is also updated.
To update Roku, go to Settings > System > Update.
Fix Plex Buffering Issues on your Roku Device
Buffering is another frustrating issue most users encounter while accessing Plex on Roku.
To fix the buffering problem, follow the steps mentioned below –
Launch the Plex Roku Channel app and go to Settings.
Select Show Advanced > Server.
Choose the Transcoder option.
From there, click the Use Hardware Acceleration option.
Now, restart your Roku device and access Plex without buffering.
Check Plex Server
Yes, server problems can often prevent you from enjoying your favorite shows. To get rid of the server issues,
Go to the Plex Server and access its Settings.
Next, select the Server tab and check for updates.
Install the updates and restart the server.
If this doesn't bring you a solution, use a wired connection instead of the wireless Plex server.
So, these are the workarounds you can try when unable to access the Plex app on Roku device. In most cases, following these solutions should help you overcome the problem.
Plex Subtitles Not Working on Roku
If the Plex app on Roku doesn't show subtitles, you must check for one of the reasons mentioned below –
The auto transcoding feature is turned off.
Closed captioning is disabled.
Non-supported title format.
Here are some proven troubleshooting tips that you may find handy.
Turn on Closed Captioning: Go to your Roku home screen and access the Settings option. You will then select Accessibility and choose Captions Mode. Click "On Always" to start getting subtitles.
Update Roku: Subtitle issues turn up if your Roku software version is outdated. To eliminate the problem, update your Roku manually by checking out the following steps.

Go to Settings.
Select System.
Click System Update and then select Check Now.
Once updated, you will have a confirmation popup that shows "All software is up to date."
Click the OK button.

Another proven method to eliminate the subtitle not working issue is to reset the Roku device. Try this only if the above tips fail.