Irrespective of the device you use, a compatible browser comes equipped with it to facilitate your browsing experience. That's true! But is it the best Internet browser?
Today we talk about the top 5 Internet browsers for 2022 for all platforms, such as Windows 10, Linux computers, Mac, iPhones, and Android phones.
Two of the most significant factors – speed and privacy – come to the fore while deciding the best web browser for your system. But, well, there's more to it. So, how will you settle with the best Internet browser?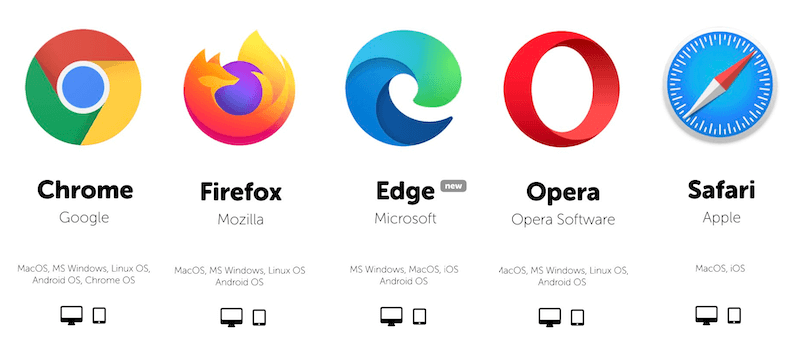 To make things easier for you, we will talk about some of the leading web browsers currently dominating the World Wide Web. Check out their features, security terms, privacy protection, and various tools to help you stay safe online.
Top 5 Internet Browsers for 2022 – Which Is the Best?
Before downloading any web browser, give yourself some time to compare and review. Here's a list of the best web browsers to fulfill all your demands.
Google Chrome – The Most-Loved Browser
The most-loved browser – Google Chrome – is also the most-functional browser. Developed by the tech giant Google, Chrome is a cross-platform, fast, secure, and easy-to-use web browser. It is magnificently designed and supports Android. Whether getting quick links to your favorite websites or personalizing news articles, Google Chrome ensures that you enjoy the same browsing experience across all your devices.
First released in 2008 for Microsoft Windows, Google Chrome soon expanded to Mac and Linux computers. In addition, the developers allowed Android and iOS users to use Chrome on their smartphones and tablets. As a result, Chrome is undoubtedly one of the most functional Internet browsers for 2022. When you log in with your Google account, it will sync data and browsing history on all the devices you access your account.
Mozilla Firefox – All-round Web Browser
You learned about Google Chrome. That's an excellent Internet browser. But have you ever tried your hands at Mozilla Firefox?
One of the most popular Internet browsers for 2022, Firefox has all the fantastic features available at your disposal. The browser has been around for two decades and works pretty well on various devices, such as Windows, Linux, Mac, Android, and iOS. The browser is frequently updated to maintain speed, security, and privacy. It also fixes bugs and keeps adding new features to provide a better experience.
With a mission to "build the Internet as a public resource accessible to all," Firefox thrives on providing "people more control over their lives online." Developed by the Mozilla Foundations, the free and open-source web browser is a lightning-fast browser that boasts no shady privacy policies or doesn't sell you out.
Microsoft Edge – Most Preferred Internet Browser for Windows
The next on our list is Microsoft Edge. It is recognized for built-in Cortana integration, Windows Timeline support, and bookmarks & browsing history sync across all devices. Successor to the Internet Explorer browser, Microsoft Edge is the best pre-installed browser for your Windows 10 device. The default browser syncs settings, passwords, and favorites across multiple devices.
Today, Microsoft Edge is the 3rd most popular web browser on the planet. Thanks to its ever-increasing features that connect you to the information you want, help you stay in the flow, and offer peace of mind.
Opera – Most-Diverse Web Browser
Launched in 1995 on Windows, Opera is one of the most diverse web browsers available on Windows, Mac, Linux, Android, and iOS.
Are you unhappy with your current web browser? Why not switch to Opera? The Opera browser is a multi-platform, Chromium-based web browser that separates itself from other browsers through its user interface.
Using the Opera browser on the desktop lets you access a great range of add-ons. These add-ons provide more functionality than just browsing the web.
Apple Safari – Best Internet Browser for iOS Devices
Like any other popular web browser, Apple users can make the most of its default browser to browse websites, open multiple sites in tabs, and bookmark favorites. Safari, developed by Apple, is a graphical web browser based on open-source software – mainly Webkit. It continues to woo Apple users with its blazing-fast JavaScript engine. It won't be wrong to say that Safari is the fastest browser globally.
Exuding powerful privacy protections, robust customization options, and industry-leading battery life, Safari lets you browse the Internet the way you want. Developed to run on Apple devices, it is arguably the best way to experience the Internet.
Conclusion
So, this is a comprehensive list of the top 5 Internet browsers. Try each browser and settle with one that provides more features, protects your online data, and safeguards your privacy.
You may also try your hands at other equally popular web browsers like DuckDuckGo (best private browser), Documents by Readdle (best for saving YouTube videos), Vivaldi (best Internet browser for multitasking), Aloha (best VPN web browser), and Brave (most secure web browser).