Spectrum TV is a well-known live TV streaming service that only Spectrum internet users can access. Spectrum subscribers are scattered across 41 states in the United States and enjoy as many as 125+ channels.
The Spectrum TV app lets you enjoy live TV, on-demand shows, guide listing, and closed captioning on your streaming devices, such as Roku, FireStick, Apple TV, Android TV, Samsung TV, etc., at no additional cost.
If you have been facing issues lately and can't access the Spectrum TV app on your Smart TV or streaming device, you must fix the problems immediately. And to help you with this, we have rounded up the best working tips to eliminate the Spectrum app's not working issues.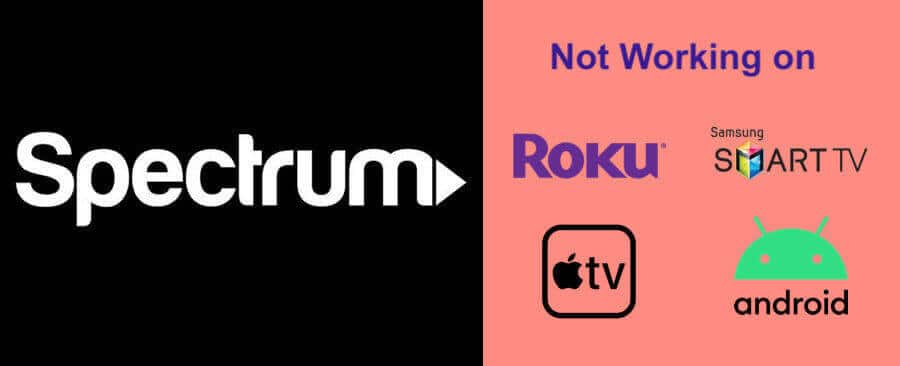 How to Fix Spectrum TV App Not Working Issues?
Before getting mad for being unable to watch live TV on the Spectrum app, try these handy troubleshooting tips. Try each method and return to the Spectrum app on your TV to check whether the problem is fixed.
Fix 1: Meet Minimum Requirements
This may sound cliché, but you must check whether your device is ready to stream Spectrum TV. Before you begin streaming Spectrum, make sure your streaming device is up-to-date. For this, go to Settings and update the software version if required.
Also, you can't take your internet speed for granted. For a hassle-free streaming experience, having a decent speed is recommended. While most people claim 5 Mbps is good, we suggest having at least 10 Mbps. When you have a stable and high-speed internet connection, it can work well with any Spectrum plan.
Fix 2: Restart Your Router
If you are unsure about the internet connection or think there's some issue with the router, simply restart it. Besides, Spectrum believes that sometimes the 'app not downloading' issue may turn up if the connection isn't strong or drops out. A restart refreshes the connection and fixes bugs.
To turn off and restart the router,
Turn the power switch off.
Unplug the router and ensure there's no power connection.
Give it some time and plug it back in.
Turn on the power switch and wait for the lights to stable.
Now check whether you have parental controls enabled. If the Spectrum TV app has parental controls enabled, go to Settings to modify it. After you have modified it, navigate to your favorite content to stream. The app should work perfectly fine.
Fix 3: Restart Your Streaming Device/ Smart TV
If the above steps don't solve the Spectrum app is not working issue, why not restart your TV-connected device? To restart your TV, turn it off, wait for a few seconds, and turn it back on. That's it!
Fix 4: Uninstall and Reinstall the Spectrum App
Consider removing the app and reinstalling it on your streaming device. This will automatically install the updated version of the Spectrum TV app on your device.
Fix 5: Factory Reset Your Device
When nothing works for you, resort to our last hope – a factory reset. The final troubleshooting method will erase away all your device settings. Here's how to factory reset your streaming device –
Press the Home icon on the remote to access the main screen.
Navigate to Settings and click the General tab.
You will need to select Reset.
Confirm it and press OK.
It should fix all pertinent errors and issues.
Fix 6: Enable Location
One of the best ways to use Spectrum for live TV and on-demand content is by enabling the device location. When you do that, Spectrum will ensure you make the most of the available channels in that location. Conversely, disabling your device location may prevent you from accessing some TV channels.
---
How to Install Spectrum TV App on Apple TV, Roku, and Xbox
The Spectrum TV app is compatible with streaming devices, Smart TVs, game consoles, and smartphones. You can check the steps below to install the Spectrum TV app on your device.
Apple TV
Turn on your Apple TV and go to the App Store.
 Type Spectrum TV and click the Get button to install the app.
Roku
Begin the app installation process by turning on your Roku TV.
Navigate to the home screen and access the Streaming Channels option.
Select Search Channels and type Spectrum TV in the search bar.
 Click the Add channel button to add the channel to your device.
Xbox
Sign in with your Xbox Live account and navigate to the Xbox Store.
Please browse through the Apps category and select Get it Free to download and install the Spectrum TV app.