Getting Newsmax on Roku is pretty simple. The updated version of the Newsmax TV app is available on the Channel Store of your Roku streaming device. You only require a stable and high-speed internet connection to watch America's first free 24/7 live channel that brings real news.
After adding the Newsmax TV app to your Roku device, you can stream different TV programs and segments –
Finance – Up-to-date stock and financial news
Live – View the LIVE Newsmax Channel
Health – Watch lifestyle and health news
Special Programming – Exclusive Newsmax TV programming
Top of the Hour News – The latest breaking news
Newsmaker Interviews – In-depth interviews with newsmakers
Let's learn how to add Newsmax on Roku and catch up on exclusive interviews and talk shows hosted by former For News Channel program hosts – Heather Childers, Bob Sellers, Rob Schmitt, and Greg Kelly.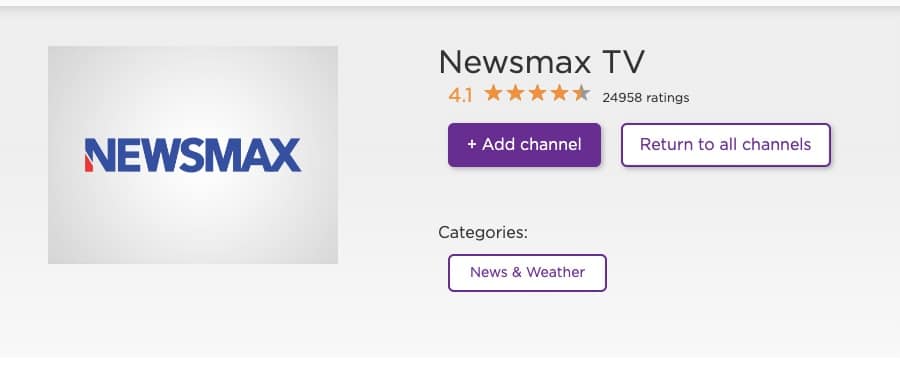 10 Simple Steps to Add Newsmax on Roku
We have developed a habit of keeping in touch with the news to learn what's happening worldwide. For this, we rely on various channels to get fresh news and live broadcasts.
Instead of switching between channels to get the latest information, you can sign up with Newsmax and install the channel app on your Roku device to watch breaking news, politics, personal finance, health, and minute headlines.
The channel saw massive growth, particularly in the wake of the 2020 election. So, like millions of Americans, you can turn to Newsmax and be a part of the latest talk shows that can empower your life.
To add and stream Newsmax TV on Roku,
#Step 1: You need to switch on your Roku-connected TV.
#Step 2: Access the home screen by pressing the Home icon on the remote.
#Step 3: Scroll down to Streaming Channels.
#Step 4: Select the Search Channels option under the Streaming Channels category.
#Step 5: Now use the virtual keyboard to type Newsmax in the Search section.
#Step 6: Select the Newsmax TV app when it appears on the screen.
#Step 7: Click the Add Channel button to install the app.
#Step 8: After successful installation, click the OK button.
#Step 9: Click the Go to Channel to launch the app.
#Step 10: You are all set to watch Newsmax on Roku.
---
Is Newsmax Available on Cable Providers?
You can watch Newsmax for free with your pay-TV providers. Take a look at Newsmax channel numbers on respective pay-TV providers.
Optimum – Channel Number 102
DirecTV – Channel Number 349
Dish – Channel 2016
Xfinity – Channel 1115
DIRECTV STREAM – Channel 349
FiOS – Channel 616 (HD) or 116 (SD)
Mediacom – Channel 277
Suddenlink – Channel 102
Armstrong – Channel 118
Hotwire – Channel 540 HD or 121 SD
TDS TV – Channel 1209 HD or 209 SD
Newsmax TV is also available on Spectrum, Cox, FuboTV, and WOW! TV.
How to Watch Newsmax TV without Cable?
Streaming services let you watch Newsmax on Roku, mobile, web, and other connected TVs. The following streaming services should help you stream Newsmax on your favorite screen.
YouTube Livestream
Stremium
SimulTV
Distro TV
Haystack
LG Channels
VIZIO Smartcast
Samsung TV Plus
Pluto TV channel 460
The Roku Channel
Plex
---
Frequently Asked Questions
Is Newsmax on Roku?
Roku has many native apps. Newsmax TV is one of them.
Can I install Newsmax on Roku?
You can sneak through the Channel Store to install Newsmax on Roku.
How to watch Newsmax on Roku?
– Install Newsmax on Roku from the Channel Store.
– Launch the app.
– Follow the on-screen prompts to watch Newsmax.
How do I contact Newsmax customer support?
If you don't get Newsmax TV, call Newsmax at 844 500 6397.