Screambox is one of the most affordable on-demand streaming services for watching horror movies and TV shows. Started by fans for fans, Screambox offers an extensive library of every genre of horror movie available, including a few classics like The Hills Have Eyes, Children of the Corn, C.H.U.D, and Hellraiser.
With a valid subscription, you can unearth the current library of Screambox that is not limited to only the US releases. Instead, you will have great scary movies from Korea, Spain, Norway, Iceland, Japan, and Thailand.
The Screambox app is available on multiple devices, such as smartphones, tablets, Roku, Smart TVs, and more. Watching horror movies on your Roku-connected devices and Samsung Smart TVs requires you to add the Screambox app and activate it via screambox.com/activate.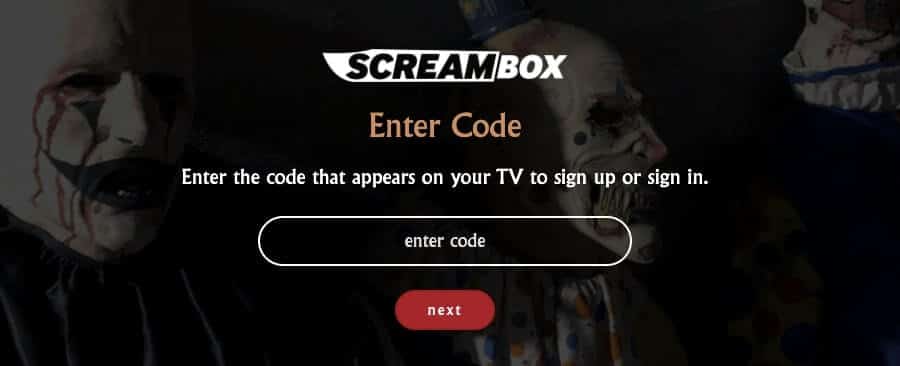 This activation guide will teach you how to install and activate the Screambox app on Roku and Samsung Smart TV.
Guide to Activate Scream Box at screambox.com/activate
To enjoy – Home Invasion, Redneck, Slasher, Crime & Giallo, Psychotic, Supernatural Power, Zombies, Body Horror, Cults & Fanaticism, Torture, Splatter, and Brutal & Disturbing – these categories, make sure you have the following prerequisites at hand.
Sign-in details with Screambox
A valid subscription to enjoy premium content.
Compatible streaming device.
A Second device to enter the screambox.com/activate code.
High-speed internet connection (Wi-Fi recommended).
Are you thrilled to join the baddest, bloodiest, and biggest group of fright fans? Follow the steps below to install and activate the Screambox app at screambox.com/activate.
Activate Screambox on Roku Streaming Device
Roku supports the latest version of the Screambox app. So all you have to do is install the app and activate it via screambox.com/activate to enjoy uncut, commercial-free horror shows. Here's a step-by-step method to follow.
Turn on your Roku device.
Press the Home icon on the Roku remote to access the home screen menu.
Scroll down to the Streaming Channels option and select the Search Channels option.
Select the Search feature and type in Screambox.
Press the search button and wait for the results to appear on the screen.
The Screambox app will turn up on the TV screen.
Select the app and click the Add Channel button to install it on Roku.
After installing it, return to the home screen and launch the app.
You will have a unique activation code on the screen.
Once you have the code, visit screambox.com/activate on another device.
Enter the sign-in code and click Next.
Sign in using your Screambox login credentials to complete the process.
Within moments your Roku device will be ready to stream your favorite horror shows.
How to Activate Screambox on Samsung Smart TV via screambox.com/activate
Samsung Smart TV also supports the Screambox app. So if you own a Smart TV, follow these steps to install and activate the Screambox app using the official link.
Go to the Samsung App Store and install the Screambox app.
Launch it to get a unique activation code.
Save the code and head to screambox.com/activate on your computer or mobile device.
Enter the code from your TV and click the Next button.
Provide the required sign-in details.
You are all set to enjoy every creepy, scary content available on Screambox on your Samsung Smart TV.
Can I Watch Screambox on iOS or Android Phones?
You can also install and stream Screambox on your iOS and Android devices. Here's a step-by-step guide to watch Screambox on your smartphone.
Navigate to the App Store on your iOS device. If you use an Android phone, go to the Google Play Store.
Type Screambox in the search box.
The Screambox app will appear on the screen.
Tap the Get or Install button to download & install the app.
Open the app and enter the sign-in details.
Now that you have installed the app and got into your Screambox account, you can select a program and start enjoying every kind of horror content ranging from Classics, Zombies, and Extreme banned titles to Psychological, Supernatural, and Slasher.
How do I sign up for Screambox?
You must get a subscription to explore its massive library and enjoy unlimited shows and movies (commercial-free and uncut). Signing up for Screambox is easy. If you don't have an account with Screambox, refer to the following steps.
Go to screambox.com on your computer or mobile browser.
Click the Subscribe to Watch option.
If you are already a member, enter your email address and password to sign in.
If you are new to Screambox, enter the below details to create your account –

Email Address
Full Name
Password

Click the Agree & Sign Up button.
By clicking the Agree & Sign Up button, you agree to the Terms of Service of Screambox.
Your Screambox account is ready. You can access the sign-in page and enter the credentials to access your account.
How to Login to your Screambox Account?
If you already have an account with Screambox, check the steps below to log in.
Visit screambox.com/login.
On the sign-in page, enter your Email and Password.
Click the Sign In button.
If you want to become a premium member, click the Become a Premium Member option. Then, follow the on-screen guidelines, enter the payment details, and watch movies and shows commercial-free.
Frequently Asked Questions
Can I stream Screambox for free?
Yes, you can watch Screambox for free with your Screambox sign-in details. However, you can't access premium content without a valid subscription plan.
Can I watch Screambox through Amazon Prime Membership?
Yes, you can watch Screambox on Amazon Prime. But, for that, you must purchase a Screambox plan through an Amazon Prime Membership.
What other platforms do I use to watch Screambox?
You can watch Screambox on your streaming devices, smartphone, tablet, or computer.
How much is a Screambox subscription?
Screambox has four plans –

– Free with Ads Plan
– Month Premium Plan ($4.99 per month)
– 3-Month Premium Plan ($11.99)
– Premium Year Plan ($39.99 per year)