NESN, also known as New England Sports Network, is a regional sports cable and satellite television network that Fenway Sports Group and Delaware North jointly own.
The channel primarily broadcasts the Boston Red Sox and the Boston Bruins. In addition, NESN is known for featuring regional sports, minor league baseball games, outdoor and sports talk shows, and college sports events.
NESN is available on most Cable, Satellite, and Streaming Media platforms. If you are using streaming devices like Roku or Apple TV, you can easily access the channel on the NESN 360 App.
To stream the NESN channel on your streaming device, you must download and install the NESN 360 app and activate it at nesn.com/authenticate using your TV provider credentials. Make sure you subscribe to the channel through a participating service provider to access the live NESN/NESN+ feed.
To know the NESN app installation and activation process in detail, follow the instructions below –
NESN Live Stream on Roku, Apple TV, and Android Devices
You can stream Red Sox, and Boston Bruins games on Roku or Apple TV by following the simple steps below. However, before following the steps –
If you have the above things ready, you can activate the NESN app on Roku in a jiffy.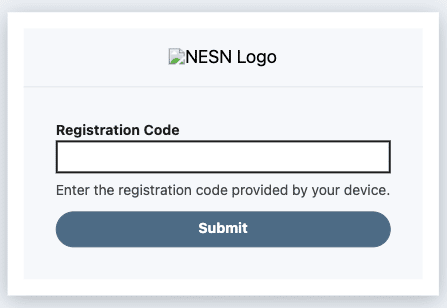 Authenticate NESN on Roku via nesn.com/authenticate
If you are using a Roku device with OS 9 or above, you can easily activate the NESN 360 app by following the step-by-step instructions below –
The NESN 360 app is now active on your Roku device. You can now stream NESN Live on your TV.
How to Stream NESN on Apple TV?
Apart from Roku, Apple TV is another device you can access NESN+. You can install the app from the app store and get it activated easily by visiting nesn.com/authenticate.
Here are the steps that will help you with the activation process –
After successful verification, you can stream live games on the NESN app.
So, now you know the steps to install & authenticate the NESN app on your Roku or Apple TV via TV provider credentials.
Moreover, you can also stream NESN Live on your device by subscribing directly to NESN 360 streaming service. So if you also wish to create a NESN account, follow the instructions below.
Steps to Sign up & Subscribe For a NESN 360
NESN 360 is a standalone streaming service offered by NESN itself. You can try this service for just $1 for the first month, and after 1st month if you want to continue, you need to pay $29.99 monthly or $329.99 annually.
Your NESN account is now active, and you can use the login details to watch NESN or NESN+ on your streaming device.
Frequently Asked Questions
How can I get NESN?
You can get NESN through different cable, satellite, telco, and streaming service providers in NESN's home broadcast territory.
How to watch the Bruins if I live outside the United States?
NESN is mainly a regional network. The Bruins programming rights are restricted to the home broadcast territory of the club. If you are located outside the US, click here to know the out-of-market streaming package available in your home country.
What happened to NHL.tv? I subscribed to NHL.tv previously.
Unfortunately, NHL.tv is not available in the out-of-market package for US customers. To get access to Bruin games, ESPN+ is now the out-of-market destination for the fans in the United States.
Is NESN available on Hulu+ Live TV?
Unfortunately, NESN is currently unavailable on Hulu. You can only stream NESN Live without cable via fuboTV, Directv Stream, and NESN 360.