In this post, you will learn how to activate your new Merrick Bank Visa credit card online, through the issuer's mobile app, or over the phone. Keep reading!
Merrick Bank is a Utah-based bank known for its credit cards designed for people with limited or bad credit. It is FDIC-insured and recognized as a top credit card issuer in the U.S. They offer a variety of cards with different features and benefits to help you build your credit history.
The bank offers several different credit cards, each with its own features and benefits. It has served over 3 million cardholders and provided more than $5.3 billion in credit. Here is an overview of some of the Merrick Bank credit cards:
Merrick Bank Secured Visa
Merrick Bank Double Your Line Visa
Merrick Bank Platinum Visa
Merrick Bank Cash Rewards Visa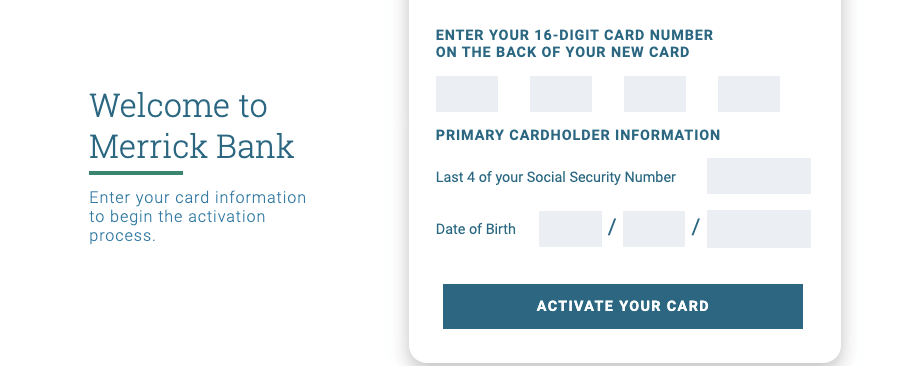 If you recently received your new Merrick Bank credit card, you must activate it online at merrickbank.com/activate or over the phone before using it for purchases and payments.
Merrickbank.com Activate Credit Card Online [2023]
Activating your new Merrick Bank credit card online at merrickbank.com/activate is relatively easy. You can activate your card by following the step-by-step instructions provided below. In the end, you can also find answers to frequently asked questions related to card activation.
Open merrickbank.com/activate on a web browser.
Enter your 16-digit card Number, the Last 4 digits of your Social Security Number, and your Date of Birth (MM/DD/YYYY) in the provided fields.
After entering the required information, click Activate Your Card.
On the next screen, follow the on-screen prompts to complete the activation process of your Merrick Bank credit card.
Once activated, you can start using it for making desired purchases and payments.
So, these are the quick steps that will help you activate your Merrick Bank credit card at merricbank.com/activate.
---
What should I do if there is a disputed transaction in my statement?
In case there is an error in your statement, you can write to Merrick Bank at Merrick Bank, P.O. Box 9201, Old Bethpage, NY, 11804-9001
Make sure you provide the following information in your letter.
Your Complete Name and Account Number.
The exact amount of the suspected error.
A brief description of the error you doubt in your statement.
In addition, you can also contact the Merrick Bank –
Within 60 days after the error appeared on your credit card statement
Minimum 3 business days before an automated payment is scheduled for your card.
How can I pay my Merrick Bank Credit card bill?
There are several convenient payment options that you can use to make the payment of your Merrick Bank credit card.
You can make the payment online through the Cardholder Center. 
You can also use the mobile app or call – 1-800-204-5936 | TTY/TDD: 1-800-253-4563.
You can mail a check or send a money order to Merrick Bank, P.O. Box 660702, Dallas, TX 75266-0702
---
Frequently Asked Questions
Where can I use the Merrick Bank Visa credit card?
You can use your Merrick Bank Platinum Visa or Merrick Bank Secured Visa at any place where Visa credit cards are accepted.
Can I obtain cash using my Merrick Bank Visa credit card?
Yes, you can borrow cash using your Merrick Bank Visa credit card almost anywhere you go. The card comes with worldwide acceptance in 200 countries and at more than 2.2 million ATMs worldwide.
What are the hours of operation of the Merrick Bank Visa credit card?
The Merrick Bank customer support representatives are available 24 by 7. Their customer support numbers are 1-800-204-5936 | TTY/TDD: 1-800-253-4563.
Can I still get a Merrick Bank credit card even when I have credit problems?
Although Merrick Bank has numerous credit programs for customers to build or rebuild their credit scores. So, depending on the type of credit problems you had in the past, Merrick Bank may or may not offer you a credit card facility. 
Can a Merrick Bank Visa Credit Card assist in re-establishing my credit score?
The Merrick Bank reports your account to all major credit bureaus (Experian | TransUnion | Equifax). Therefore, if you maintain a consistent report of positive payment history, you can re-establish your credit rating.
When does Merrick Bank consider a late payment?
When your card's payment is not received by the due date, it is considered late. If the payment for your card is not received by the due date, you will be charged a late payment fee. It is, therefore, always recommended to make the full/minimum payment on/before the due date to avoid a late fee and a negative impact on your credit score.