Roku is one of the first choices for streaming content over the internet. The streaming platform supports more than 500,000 channels, ranging from sports, news, movies, shows, and games. In today's post, you will learn different ways to stream Jeopardy on Roku.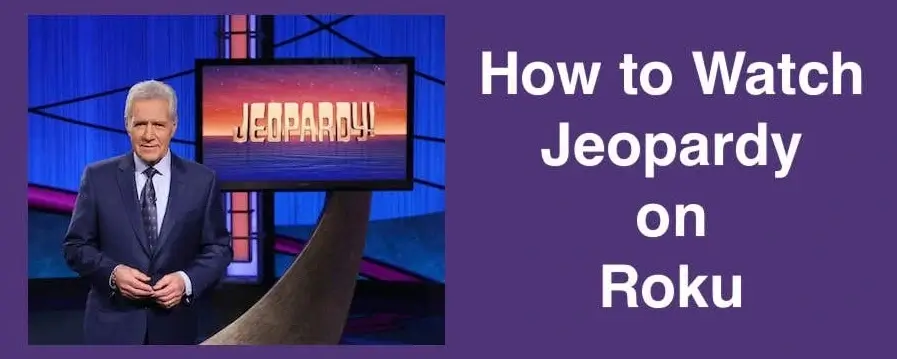 Jeopardy is a famous American TV game show, a quiz competition created by Merv Griffin. Debuted in 1964, Jeopardy has stored over 8,000 episodes and is currently in its 38th season, becoming one of the longest-running game shows of all time.
If you have a Roku streaming device and want to watch Jeopardy game shows, there are various ways to do it.
How to Watch Jeopardy on Roku via the ABC app
One of the straightforward ways to get Jeopardy on your Roku streaming device is through the ABC channel. Yes, that's correct. The ABC channel broadcasts Jeopardy shows, and you can install the ABC TV app from the Roku Channel Store. However, you will need a subscription through a participating TV provider to stream Jeopardy through the ABC channel.
Follow the steps below to watch Jeopardy on Roku through the ABC channel.
Turn on your Roku device.
Press the Home button on your remote to access the home screen.
Navigate to the Streaming Channels option.
Select Search channels and access the Search option.
Type ABC in the search bar and install the app once it appears on the screen by clicking the Add channel button.
Click OK and select the Go to Channel button to launch the ABC app on Roku.
Follow the prompts on your TV to generate a unique activation code.
Once you have the code, visit abc.com/activate on your mobile or web browser.
Enter the code and click the Continue button.
Then provide the sign-in details with your TV provider.
The Roku screen will load, and you can access the ABC channel. Next, search for Jeopardy, and you are ready to stream Jeopardy shows on Roku.
---
Watch Jeopardy on Roku without Cable (using Streaming Services)
You can also watch Jeopardy on your streaming device, such as Roku, Fire TV, Apple TV, etc., if you have subscribed to any of the streaming services below.
YouTube TV: Have you already subscribed to YouTube TV on your Roku? If not, you can get YouTube TV for $64.99 per month and enjoy the Jeopardy game show on Roku. Also, YouTube offers unlimited cloud storage to record shows and episodes.
DirecTV STREAM: Another popular streaming service that offers Jeopardy content is DIRECTV STREAM. And you can get DirecTV Stream on Roku from the Roku Channel Store. The streaming service has different plans. You can choose the lowest plan for $69.99 per month.
Hulu: Hulu is another American subscription-based streaming service and an ideal choice for watching Jeopardy on Roku. Apart from Jeopardy, you can watch 75+ top channels with your favorite movies, sports, and live events. Subscribe to Hulu and enjoy a 30-day free trial.
Sling TV: Operated by Sling TV LLC, Sling TV is the first app-based TV service to watch on-demand and live TV over the Internet. You can avail of Jeopardy content through the ABC channel, which you can get on your Roku. So, if you already subscribe to Sling TV, you can stream Jeopardy on Roku at no additional charge.
---
Frequently Asked Questions
Where can I watch Jeopardy on Roku?
If you already subscribe to ABC through a participating cable TV provider, you can easily watch Jeopardy on Roku. Please refer to the easy steps above.
Is Jeopardy on any streaming service?
Yes, Jeopardy is available through streaming services, such as YouTube TV, Sling TV, DIRECTV STREAM, and Hulu.
How can I watch current episodes of Jeopardy?
You can watch the current episodes of Jeopardy through the ABC channel or the streaming services.
Is Jeopardy on Netflix or Prime?
No, you can't stream Jeopardy on Netflix or Prime.