Haystack News can be your preferred choice if you develop a habit of watching the news before starting your day. It is a great platform to get free local and world news on your favorite streaming device.
Founded in 2013 as Haystack TV by Ish Harshawat and Daniel Barreto, Haystack News is available on all leading streaming devices and Smart TVs. Also, the app is available on iOS and Android devices.
To stream Haystack News for free, register for a Haystack account. After creating an account, you need to install the Haystack Local & World News TV app on your preferred streaming device and activate the channel at haystack.tv/activate.
Once activated, you can stream entertainment, politics, video game, weather, finance, business, current events, sci-tech, or international news from more than 300 channels anytime, anywhere.
Guide to Activate Haystack TV App at Haystack.tv/activate
More than 300 news organizations use Haystack News Network to share their content.
If you want to access local and international media groups on your streaming device such as Roku, fireTV, Apple TV, or Android TV, here are a few details you must possess before activating Haystack News.
Sign-in details with your Haystack News account.
A stable internet connection.
You should use a compatible streaming device.
A computer or mobile phone is also required.
This guide will teach you how to create a Haystack News account and the easy steps to activate it on different devices.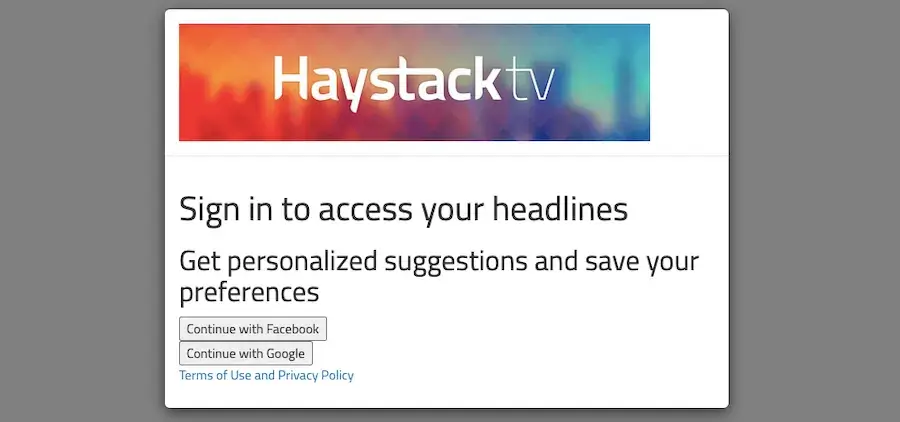 Haystack.tv Activate on Roku
Here's what you need to do to stream Haystack News on Roku.
Please turn on the Roku device and connect it to a high-speed Internet connection.
Navigate to the home screen and then select the Streaming Channels option.
Look for the Search Channels option, click the search bar, and type Haystack News.
Select the app and click the Add Channel button to add the Haystack News app on Roku.
Launch the app and note down the code displayed on your TV screen.
Access haystack.tv/activate on a computer, mobile phone, or tablet.
Sign in using your Google or Facebook log-in credentials.
Enter the code and click the Activate button to finish the activation process.
You can enjoy the Haystack news Roku channel on the big TV screen.
Activate Haystack News on Android TV
Download the Haystack app on your Google TV and activate it by accessing the Haystack.tv activate page. Make sure you have a Haystack account to complete the process hassle-free.
Switch on your Android TV.
Navigate to Google Play Store.
Search for the Haystack News app and click the Install button.
Now, click the Open option to launch the app on Android TV.
Access the Settings section and select the Sign-in option.
You will see an activation code along with instructions.
Once you have the code, open haystack.tv/activate on another device.
Select Continue with Google or Continue with Facebook.
Enter the login details if you have not signed in already.
Provide the code and click Activate.
That's how you can stream Haystack news on your Android TV.
Get Haystack News on Apple TV at haystack.tv/activate
Just like Roku, Apple TV has an extensive customer base. In addition, the streaming device supports Haystack. To watch Haystack news on Apple TV, you must install the Haystack TV app from the app store and activate it at haystack.tv/activate.
Let's unearth the activation process below. Make sure you follow the steps precisely to avoid any errors.
On your Apple TV, go to the App Store.
Type Haystack Local & World News on the search bar and select the app from the list.
Click the Get button to install the app on your device.
Now, open the app and follow the prompts to get an activation code.
On another device, navigate to haystack.tv/activate.
Select Continue with Google or Continue with Facebook and log into your account.
Enter the code and click the Activate button.
After successful activation, you can start streaming Haystack TV on Apple TV anytime.
Haystack.tv/activate FireStick
Follow the instructions below to install & activate the Haystack app –
Access the home screen of your Amazon Fire TV.
Select the Find option and navigate to Amazon AppStore.
Look for the Haystack News app using the virtual keyboard.
Click the Get button to download & install the app.
Open the app and select the sign-in option to get a code.
Save the code or leave the screen visible as you visit haystack.tv/activate on a computer or mobile phone.
Select the correct option to sign in and enter the code displayed on your TV.
After entering the code, click the Activate button.
If you encounter any technical difficulties while activating the Haystack app on your streaming device, delete the app and reinstall it. You may also like to fix the internet if it shows some error. Finally, make sure your device is compatible with the Haystack News app.
How to Create a Haystack News Account?
You must have the Haystack News account details to stream its content for free. Refer to the steps below if you don't have the sign-in details with Haystack. (Those who already have the details may skip this section.)
Go to haystack.tv on your computer and click Get Started.
You will get a popup screen, prompting you to select Continue with Facebook or Continue with Google.
Use one of these accounts to sign in.
There you are! You have linked your account with Haystack News. The next time you want to access Haystack News, use these credentials to log in.
---
Frequently Asked Questions
Is Haystack TV available for free?
Yes, you can stream Haystack News for free.
Is Haystack TV live?
Yes, the service is a well-known news provider. You can enjoy on-demand and live streaming for free. You can enjoy local, national, and internet news live on your preferred streaming device.
Is Haystack News available on Fire TV?
The Haystack News app is available on Fire TV. You can download the app from the Amazon App Store.