Green Dot is one of the leading providers of prepaid debit cards in the United States. This American financial technology and bank holding company is the world's largest prepaid debit card company and is quite popular and well known for offering convenience and simplicity to its customers through its services.

If you have recently received your new Green Dot card, you will be required to activate it at greendot.com/activate before using it for any online or offline transaction. Green Dot also has a mobile app to activate your prepaid card and manage your account.
Below you can find the detailed instruction to activate your Green Dot money prepaid card.
Things Required to Activate Green Dot Card
Stable internet connection.
A computer or phone to access greendot.com/activate.
Your Green Dot Card details (card number, expiration date, and CVV).
Personal information (Social Security Number or ITIN)
Complete Guide to Activate Green Dot Card
Depending on the Green Dot card type, choose from the following methods to register and activate your Green Dot prepaid card.
Activate a Green Dot Debit Card at greendot.com/activate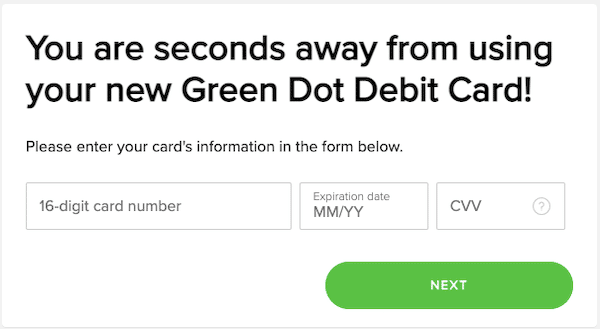 Open a web browser on your pc/phone and visit the Green Dot card activation page – greendot.com/activate.
Enter your Green Dot 16-digit card number, expiration (MM/YY), and CVV in the prompted field and tap the Next button.
If prompted, on the next screen, provide additional details like your first name, last name, address, phone number, email, social security number, ITIN & date of birth, and click Continue.
Then, complete the remaining guided instructions to complete the activation process.
Once activated, you can start using your Green Dot card.
Activate a Green Dot Debit Card via Mobile App
If you want to register your Green Dot Visa debit card via iOS or Android mobile app, you must follow the following instructions.
Go to the App store on your smartphone.
Search for the Green Dot app using the search option.
Select the app from the search results.
Download & install the app on your mobile device.
After installation, launch the Green Dot app.
Now tap Have a New Card in Hand? to activate your card.
Enter your 16-digit card number, expiration date (MM/YY), and CVV in the provided fields and tap Next.
Provide your personal information to complete the registration of your card.

Name
Address
Date of birth
Mobile phone number
Social Security number
Pin Number

After entering all required information, tap Continue.
Verify your address and click Continue.
You need to verify your phone number via a verification code sent on your phone. You must verify your phone number to activate your Green Dot card.
After successful verification, you need to create your login credentials.
Your Green Dot money card is now active, and you can deposit funds on your card.
How to Activate a Green Dot Platinum Secured Credit Card?
A Green Dot Platinum card is a prepaid credit card where you pay a deposit to secure your line of credit. The amount you deposit is generally the amount of your line of credit. For example, if you have deposited $500, you will have a $500 line of credit.
Below are the step-by-step instructions to activate Green Dot Platinum Card.
Visit the Green Dot Platinum Card activation page platinum.greendot.com/activate on a web browser.
Enter the following information:

Account Number
First Name, Middle Name, Last Name
Last four digits of your social security number
Card expiration date
CVC/CVV Number
Date of Birth
State
Zip Code

Click on the "Activate Card" button.
On the next screen, follow the guided instructions to complete the activation of your Green Dot Platinum Card.
Frequently Asked Questions
Can I activate my Green Dot card over the phone?
Unfortunately, the company does not allow you to register or activate your Green Dot prepaid card over the phone for security reasons. 
How can I improve my credit score with Green Dot Platinum Credit Card?
As Green Dot sends your card usage and payments report to all three major credit bureaus, you can use it to build credit over time. However, try to keep your card usage low and make payments on time to avoid a negative impact on your credit score.
How can I report my lost/stolen card?
If your card is lost/stolen, you can report it by visiting this card replacement page. Your card will be blocked, and a new one will be issued.
Can I still access my funds after reporting my lost/stolen card?
Yes, you can access available funds on your account using the Green Dot mobile app. Just visit the Manage Card section in the Green Dot app and follow the instructions to generate a time-sensitive barcode. Use this code to receive cash at Walmart. Remember that there is a service fee of $3.
How can I reset my Green Dot account password?
To reset your password, open the GreenDot recovery page. Alternatively, you can click on Forgot login info on the Green Dot app sign-in screen. You will be requested to provide your Social Security Number, 16-digit card number, and security code (CVV) to reset your password.
Where can I find my card number, expiry, and CVV?
You can find these details on the card you want to register. The 16-digit card number is present on the front of your card. While the expiry date is mentioned below the card number, you can find the CVV code on the backside of your Green Dot card.