If you are on the lookout for a debit card (that too without a bank account), why not sign up for a Walmart MoneyCard account?
Green Dot Bank, a registered trademark of Green Dot Corporation, issues the Walmart Money MasterCard. If you wish to get a Walmart MoneyCard, make sure you are 18.
You can get a Walmart Money Card Account even if you have bad credit. After opening an account, you can apply for a card. There's no credit check to get a MoneyCard from Walmart.
Once you receive your card, you must activate it online at walmartmoneycard.com/activate or by phone. After that, you can use your Walmart MoneyCard anywhere in the United States.
Activate Walmart MoneyCard at walmartmoneycard.com/activate
After receiving your Walmart Money Card, you must activate it at walmartmoneycard.com activate URL so that you won't face a problem while using the card at stores.
Ensure you use a stable internet connection and a computer or mobile device to complete the activation process. Also, you must possess the card details, such as the 16-digit card number, expiration details, etc., along with your personal information.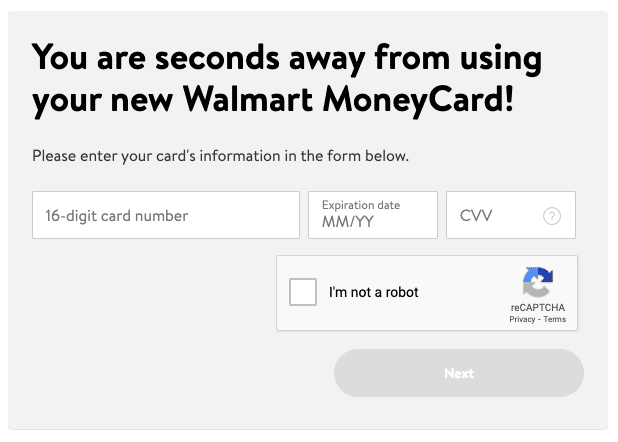 Here's the simple online activation process to follow.
Visit walmartmoneycard.com/activate using a web browser.
To register your Walmart MoneyCard, enter the card details – 16-digit card number, expiration date (MM/YY), and CVV.
Click the Next button.
Enter your name, address, date of birth, and mobile number here.
Follow the on-screen instructions to activate your new Walmart prepaid card.
As soon as your Walmart MoneyCard is activated, you are welcome to use it as per your requirements.
Alternative Ways to Activate Your Walmart MoneyCard
The online method is not the only way to activate your new Walmart Money Card. Check out some other ways to activate your card.
Walmart MoneyCard Activation using Mobile App
Maybe you are outside and can't access your computer to perform the above activation process. No issues! You can use your smartphone to get started.
To begin with, install the Walmart MoneyCard app on your iPhone or Android smartphone.
Go to the Play Store or App Store, depending on your device.
Look for the Walmart MoneyCard app and install it.
Launch the app and enter the sign-in credentials.
Go to the Card Activation section and enter your card details.
You can start using the card upon successful activation.
Activate Walmart MoneyCard by Phone
If you are experiencing a bad internet connection or can't trust your Wi-Fi network to accomplish the task, you may use the following method.
From your home number or mobile phone, call (866) 946-2510.
Stick to the on-call prompts.
Select the card activation option when prompted.
Give in your card details.
That's it! Your card will get activated instantly, and you can now use it for offline or online purchases.
However, you can talk to a customer representative if you need help activating your Walmart MoneyCard.
How to Contact Walmart Customer Support
The best way to contact Walmart customer care is through call. You can dial the number (1-877-937-4098) to connect with one of the agents.
There's another way to reach out to Walmart. You can write and contact Walmart by mail. Make sure you write to Walmart at the following address –
Walmart MoneyCard, P.O. Box 5100, Pasadena, CA 91117-0100
How to Apply for a Walmart Money Card?
Are you considering getting a Walmart MoneyCard and enjoying many perks and benefits? Great! You can enjoy a safer, more convenient way to pay than cash by getting hold of a prepaid debit card. Also, you will earn 3% cash back at walmart.com.
To enjoy all these benefits, you must get a MoneyCard today. Here's how you can apply for one –
On a computer or mobile device, open walmartmoneycard.com.
Click on the option that says Open an account.
On the next screen, provide the below information –

First Name
Last Name
Address
Apartment or Unit#
Zip Code
Mobile Number
Email Address
Social Security Number
Date of Birth (MM/DD/YYYY)

Tick all checkboxes and click on the Continue button.
Then, follow the prompts to generate a unique user ID and password.
After successful verification, you will receive your Walmart MoneyCard within 7 – 10 working days. After getting the card, follow the above steps to activate your card via walmartmoneycard.com activate link.
Frequently Asked Questions
Is Walmart MoneyCard a credit card?
No, it is not a credit card. Instead, the Walmart Money Card is a pre-loaded card power-packed with great perks like cash rewards. With your Walmart MoneyCard Account, you can send money and receive direct deposits, too.
How can I use my Walmart MoneyCard?
Apart from using the card at stores where Visa Debit & Debit MasterCard is accepted, you can pay bills, go shopping, etc. In addition, your MoneyCard Account can earn you up to $75 every year.