Today, You don't have to wait for your cable operator to broadcast your favorite Hollywood hits and exclusive original series. Instead, with a streaming device or smart TV, you can stream videos and movies over the internet whenever you want.
If you like to revel in movies, behind-the-scenes exclusives, and other enthralling content, get Cinemax. You can watch movies and videos in HD with a Cinemax subscription.
Want to watch Cinemax on Roku? This is possible even if you can't add the Cinemax app to Roku from the Channel Store. So, how will you do that? Let's learn the process in this guide.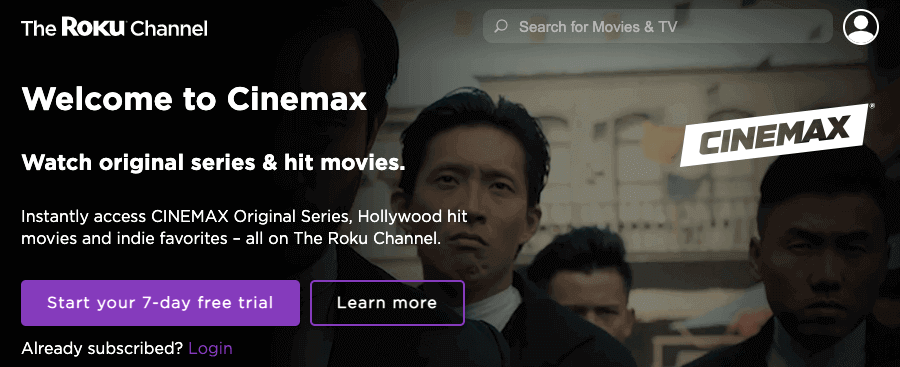 Things Needed to Watch Cinemax on Roku
For a hassle-free streaming experience, you should possess –
A valid subscription to Cinemax on therokuchannel.roku.com.
Make sure your Roku device is updated.
Use a high-speed internet connection.
Cinemax on Roku
Cinemax is not available as a standalone channel on the Roku Channel Store. However, you can subscribe to Cinemax on The Roku Channel and watch your favorite movies and series.
First, turn on your Roku device.
Press the Home icon to access the home screen.
Please scroll to The Roku Channel by pressing the Right Arrow button.
Select The Roku Channel.
If prompted, enter the Roku login credentials.
Look for Cinemax and launch it.
If you have already subscribed to Cinemax, you can instantly access CINEMAX Original Series, Hollywood hit movies, and indie favorites. If not, start your 7-day free trial.
---
How to Subscribe to Cinemax on The Roku Channel
Cinemax is the home of the latest Hollywood movies and original series. But, first, you must subscribe to Cinemax on The Roku Channel to watch CINEMAX Original Series and other popular videos on your Roku device. Here's a step-by-step procedure.
Open therokuchannel.roku.com on a web browser.
Type Cinemax in the Search bar and select it from the results.
Click the Start your 7-day free trial button.
It will take you to your Roku sign-in page.
Now, sign in using your Roku credentials. (If you don't remember your login details, click Forgot password.)
Enter the required payment details.
Click the Subscribe button to begin your 7-day free trial.
If you don't like the service, cancel the subscription before the trial ends. After the free trial, you will be charged $9.99 per month.
---
Alternative Ways to Watch Cinemax on Roku
Some streaming services like Hulu, Prime Video, Sling TV, etc., offer Cinemax. If you already subscribe to these services, you don't need to pay separately to enjoy Cinemax on Roku.
---
Frequently Asked Questions
Can I get Cinemax on my Roku?
Yes, you can get Cinemax on the Roku Channel and watch indie favorites, Hollywood movies, and original series.
Does Cinemax have a streaming app?
Currently, you won't find a dedicated Cinemax streaming app on Roku. Instead, you must subscribe to Cinemax on The Roku Channel to watch it on your Roku TV.
How much do I have to pay to watch Cinemax?
You can subscribe to Cinemax for $9.99 per month. You also get to enjoy one week free.
Can I stream Cinemax without cable?
Yes, you can watch Cinemax on Roku without cable.
Is Cinemax free with Prime Video?
Yes, Prime Video lets you watch Cinemax free for the first month. Afterward, you will be charged $9.99/ month.