Barclays is a multinational investment bank and financial services company. In addition to investment banking, Barclays mainly focuses on four principal businesses – Corporate Banking, Personal Banking, Investment Management, and Wealth Management.
The Bank is also known for offering a wide range of credit cards. One of the popular cards offered by the bank is JetBlue MasterCard.
Barclays offers four different JetBlue MasterCards –
JetBlue World MasterCard
JetBlue Plus World Elite MasterCard
JetBlue Rewards World Elite MasterCard
JetBlue Business MasterCard
After receiving a JetBlue Master credit card, you must activate it at jetbluemastercard.com/activate before making online or offline purchases and payments.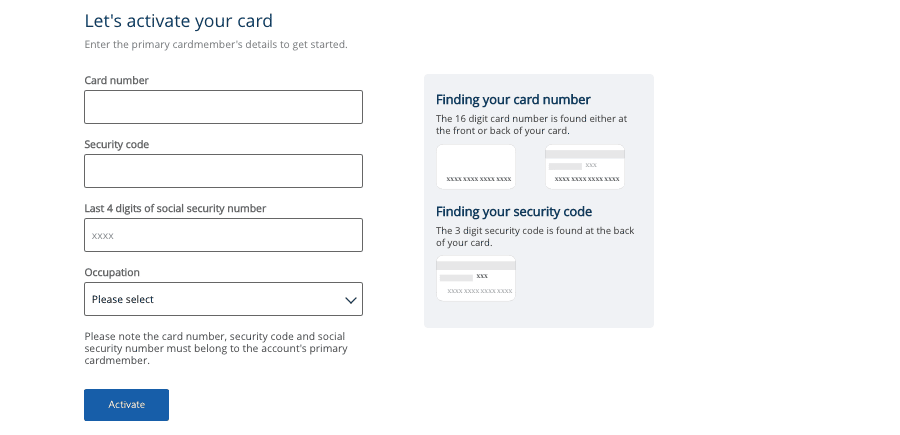 You can activate your JetBlue MasterCard online, over the phone at (877) 408-8866, or via the Barclays mobile app. Before following the activation steps below, ensure you have the card numbers, security code, and the last 4-digits of your Social Security number.
Guide to Activate JetBlue card at jetbluemastercard.com/activate [2023]
If you have the above things handy, you can proceed with the below-mentioned methods to activate your JetBlue card.
Visit jetbluemastercard.com/activate on a web browser.
If you are an Existing card member and already have a Barclays online account, click the log-in option to activate your card.
New card members need to enter the below details in the prompted field –

Card number (JetBlue Mastercard 16-digit number).
3-digit security code at the back of the card.
Last 4-digits of your social security number.
Select your Occupation from the drop-down.

After entering all the required details, click Activate.
Your JetBlue Mastercard is now active, and you can start using it for making desired purchases and payments wherever Mastercard is accepted.
---
How to Sign Up for Barclays Online Account Access?
Before activating your JetBlue Mastercard at jetbluemastercard.com/activate, it is suggested to sign up for online account access. Although you can activate your JetBlue Mastercard without signing into your Online Access account, you must have an Online Access Account to manage your card. Follow these steps to learn how to set up an online access account.
Access the Barclays Online Access signup page.
Enter the following information to verify your identity –

Last 4-digits of your Social Security Number
16-digit account number on your card
Current Occupation

Click on the Continue button.
After that, follow the on-screen prompts to complete the signup process.
---
About JetBlue MasterCards
Here are the JetBlue MasterCards offered by Barclays –
Blue World MasterCard
Annual Fee: None
Signup Offer: 15,000 points when you spend $1,000 within the first three months of receiving the card.
Rewards: 3x JetBlue, 2x groceries and dining, 1x everywhere else
JetBlue Plus World Elite MasterCard
Annual Fee: $99
Signup Bonus: Get 40,000 points when you spend $1,000 within the first 3-months of receiving the card.
Rewards: 6x JetBlue, 2x dining and groceries, and 1x everywhere else. You can also get 5,000 bonus points each time you renew and pay the annual fee.
World Elite Master Card Benefits
Get access to MasterCard Luxury Hotels & Resorts, including more than 2,000+ luxury hotels worldwide.
Experience MasterCard Travel & Lifestyle Services, which comprises private jet, cruise lines, saving on airfare, airport concierge, chauffeured card, car rentals, tours, vacation packages, etc.
Get a 10% discount with one fine stay (an elite home-sharing service).
Get a $10 Lyft credit every month when you complete five rides every month.
JetBlue Rewards World Elite MasterCard (for previous Amex members only)
Annual fee: $40
Rewards: 4x JetBlue, 2x dining and groceries, and 1x everywhere else.
JetBlue Business MasterCard
The JetBlue Business MasterCard is almost similar to JetBlue Plus Card. The only exception here is that this card provides a 2x bonus for office supplies instead of groceries.
---
Frequently Asked Questions
How to report a lost/stolen card?
You can report your lost or stolen card by calling Barclays Customer Service at 888 232 0780. Your card will be blocked right away. Make sure to be ready with the following details:
 
– Details of your recent credit card activity.
– Place, time, and date when you lost your credit card.
– Police report information for your stolen card (if available).
Up to what amount can I transfer my balance? Is there any limit?
You are allowed to transfer any amount available in your credit limit. However, it is recommended to keep sufficient credit to make payment of any fees or interest charges that may be levied.
How can I get my credit limit increased?
– Sign in to your online access account on your phone/pc. 
– Go to the Services tab.
– Next, select Request Credit Line Increase. 
– Follow the on-screen prompts. That's it.
Where can I make the payment of my credit card through the Mail?
You can make your credit card payment via Mail at the following addresses:

Card Services, P.O. Box 60517, City of Industry, CA 91716-0517
OR
Credit Card Payments, P.O. Box 13337, Philadelphia, PA 19101-3337