For frequent shoppers at Gap stores and its sister brands, Gap brings you its retail Gap Good Rewards MasterCard Credit Card to save more, earn points, and redeem them whenever you want. With this card, you save big on clothing purchases. And if you are a big spender, there are chances that you may earn "Icon" status to enjoy some solid perks.
Barclays issues the Gap Good Rewards credit card. It is a zero-annual fee card for people who love shopping and saving big. The best part is you can use the card at various stores, including Gap stores, Intermix, Old Navy, Athleta, Banana Republic, etc.
Want to earn 5,000 reward points? Sign up for the Gap Good Rewards program and get hold of a suitable credit card. Before using the card, make sure you activate your Gap card at gap.com/activate.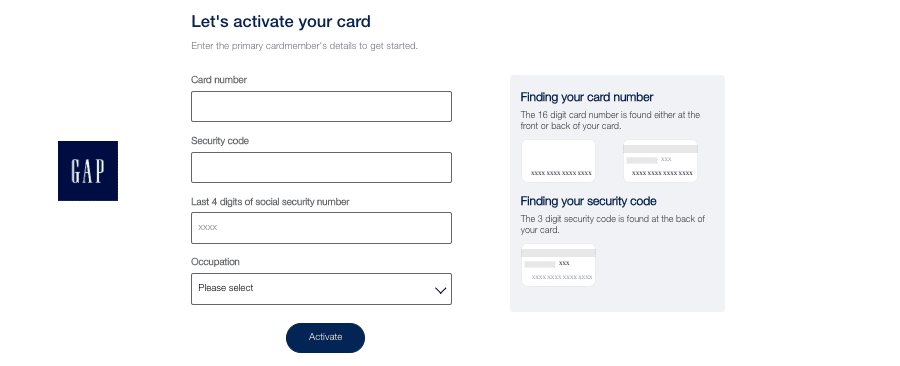 Below, you will learn how to activate your newly received Gap Card online.
Guide to Activate Your Gap Card Online at gap.com/activate [2023]
Without further ado, let's quickly learn the online activation process. You don't need to be internet-savvy to activate your Gap credit card online at gap.com/activate.
Here's a list of things you should possess before activating your Gap credit card.
Your Gap credit card number (16 digits)
Security code (3 digits)
Social security number (4 digits)
GAP account details – Optional (for a faster process)
High-speed internet connection
You must possess a smartphone or computer to access gap.com/activate.
Let's learn how to get started with your newly received Gap card.
To activate your Gap card without login details, access gap.com/activate.
Enter the primary card member's card number. (This is the 16-digit card number on the front of your card.)
Next, enter the 3-digit Security Code and the last 4-digits of your Social Security Number.
After entering these details, select your Occupation from the drop-down list.
Click the Activate button.
Your GAP credit card will get activated within moments. You can now start using it at your favorite GAP stores and earn rewards.
You can also activate your Gap card at the Barclays website if you already have a Barclays online account.
---
How to Log in and Activate Gap Credit Card
If you already have the login details, we recommend using the credentials to sign in and activate your Gap card. Here's a step-by-step process to completing your card activation process.
Visit gap.com/activate on your computer or mobile device.
Click login to access the Barclays account login page.
On the login screen, enter your username and password.
Click the Login button. (If you don't remember your credentials, click Forgot username or password.)
You are on the dashboard of your Barclays account.
From here, hover the mouse over the Activate Your Card tab and click it.
Enter your card details, SSN, and other required details.
Follow the on-screen prompts to activate your GAP card.
Once activated, you can use the card at Gap stores, Old Navy, Athleta, Intermix, and Banana Republic.
---
Frequently Asked Questions
Can I activate my Gap card via the Barclays mobile app?
You can activate your card using the Barclays US Credit Card mobile app. So, install the app on your device from Google Play Store or App Store. It will hardly take any time.
Who is the official issuer of GAP credit cards?
Barclays issues all Gap credit cards. The Gap Good Rewards program offers three credit cards – the Gap Good Rewards Mastercard, the Gap Good Rewards Credit Card, and the Gap Good Rewards World Mastercard.
What will I get if I earn the Icon status?
Earning the Icon status is a big thing. You earn 5,000 reward points within a calendar year when upgraded to a Gap Icon account. So, here are a few things you will get –

– Free shipping (two to three-day) with a purchase of $50 or more.
– A quarterly bonus of 500 points.
– One choose-your-own-sale day.
– Free alterations of apparel purchased at the Banana Republic store or online.
Do I have to pay an annual fee?
No.
How can I apply for a Gap card?
If you don't have a Gap card, you can visit the GAP store or start the card application process by accessing this page.