NFL fans with a tight budget may opt for RedZone on their smartphones (iOS and Android), costing them just $35 for the entire season. But, if you want to watch Sunday matches on your TV, make sure you subscribe to NFL RedZone through the following service providers.
Ways to Stream NFL RedZone on TV
Cox: Add Sports Pack 2 to your Sports & Info Pack subscription and watch all afternoon Sunday games on the big screen. Cox is available on your TV-connected devices. You can add and watch every game.
Dish: The Multi-Sport Package lets you watch all your favorite sports in one place, including NFL RedZone. Dish Network is available on Roku, Fire TV Stick, and other leading streaming platforms.
Fios by Verizon: Besides providing the fastest internet speeds, Verizon Fios ensures you watch the NFL RedZone matches on your TV. Get the Fios TV app on your connected devices or phone to watch Sunday matches at home or on the go.
Optimum: All Sunday long, watch every snap, every kick-off, and every touchdown from every game around the National Football league. Optimum also lets you watch highlights and news. You can call 866 200 6165 to subscribe to your favorite Optimum Sports Pack. Moreover, you can customize your experience with a suitable Optimum package – because sports packages from Optimum are a game changer.
Spectrum: NFL is fascinating, electrifying, and gripping. Spectrum understands it very well. With the Spectrum TV app on your streaming platform, you can turn any screen into your TV screen. In addition, you can catch all the College sports, pro sports, and minor leagues with Spectrum Sports View.
Xfinity: Can Xfinity be considered for streaming NFL RedZone on the big screen? Yes, for sure. From tracking multiple games to checking scores and stats on the TV, with Xfinity's More Sports and Entertainment package, you can get in on your most liked sports channels.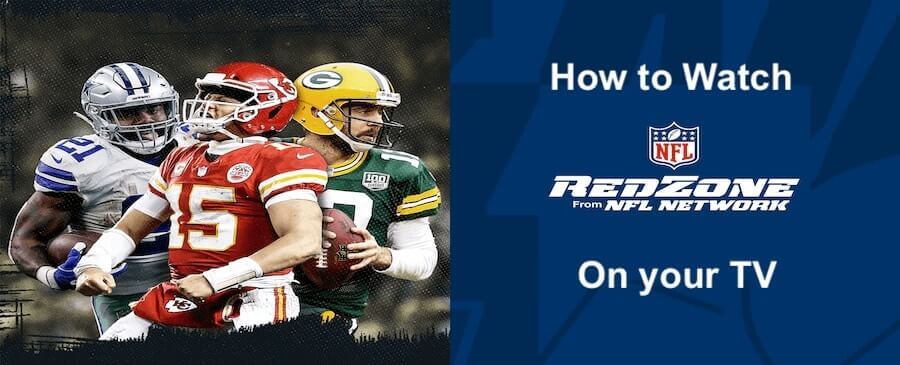 Watch NFL RedZone on your TV (Without Cable)
You can stream NFL RedZone on your TV without cable by downloading any of the below apps on your Apple TV, Fire TV, Android TV, LG TV, Roku, Xbox, and Samsung TV.
NFL App: To stream NFL Network and NFL RedZone on your TV, install the NFL App on Amazon Fire TV, Apple TV, Android TV, Xbox, or Roku device from the app store and activate it at nfl.com/activate.
Hulu + Live TV: Have you already subscribed to Hulu + Live TV? You can simply get the Sports Add-on to stream live sports with NFL RedZone and five other networks for just $9.99 per month. Install the Hulu app on your TV-connected device to watch non-stop live football every Sunday afternoon, all season long.
FuboTV: Watch RedZone football on your TV with fuboTV. Sign up for a 7-day free trial, provide the payment details, and start watching Sunday football on Roku, Apple TV, Fire TV, and Android TV. You can cancel your service online anytime. Now, you can sign up for Hulu Plus Live TV with Disney and ESPN Plus.
Sling: Looking for an affordable way to stream Live TV? Sling TV has you covered. Go for its Orange plan for half off your first month and watch NFL RedZone on Fire TV, Apple TV, Xbox, Roku, LG TV, and Samsung TV.
Can I watch NFL RedZone on DirecTV Stream?
A "family of streaming multichannel television services" offered by DirecTV, DIRECTV Stream, previously AT&T TV, is a no-term commitment service, allowing customers or users to stream the best on-demand local & national channels and live TV.
Moreover, DIRECTV Stream lets you access over 7,000 apps, including Netflix, Prime Video, HBO Max, and much more. Think you may miss an episode? Then, get unlimited hours of Cloud DVR recordings. With DirecTV Stream, the entertainment never seems to cease.
But the question is – "Can you watch NFL RedZone on DirecTV Stream?" Let's find out!
How to Watch NFL RedZone on DIRECTV STREAM
To give you a straightforward answer – DIRECTV Stream is not permitted to stream the NFL RedZone. Although the reason for the omission is unclear, it can only be said with confidence that AT&T TV had previously dropped the NFL RedZone and NFL Network channels for managing "content costs".
There are plenty of other options available if you want to stream NFL RedZone on your streaming device. Consider Hulu Live TV or fuboTV, as these streaming service providers have Sports Add-ons with a seven-day free trial. You may also like to check out Sling TV packages.