Twitch is a popular online video live-streaming service in the gaming world. Twitch users can watch and stream games, interact with friends in chat rooms, and even follow channels.
This game-streaming platform has an outstanding feature that lets you download videos and store them locally. In most cases, Twitch streamers upload videos to another platform like YouTube.
If you have something similar in mind and want to download VOD videos and access them later (offline), this guide is for you. We have extensively discussed how to download Twitch videos on your computer.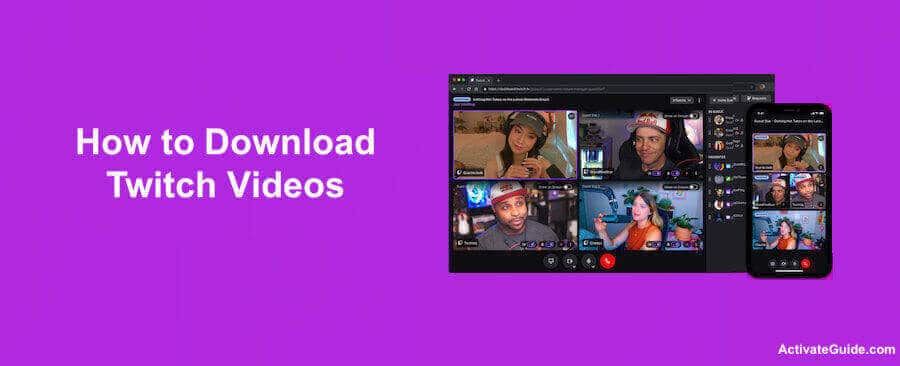 Can I Download My Twitch Broadcasts?
Twitch allows its partners, affiliates, or regular users to access their respective accounts and download videos from their respective windows.
Your Twitch window for downloading previous streams or broadcasts varies between fortnights to two months after the initial stream (depending on your account type). That means you can access your account and download videos anytime between 14 to 60 days, depending on whether you are a Twitch Partner, regular user, or an affiliate.
After the stipulated period, broadcasts will auto-delete. So, save your videos before they are gone.
How to Enable Auto-Archiving and Save Your Broadcasts
You can easily save your Twitch videos by following these quick steps –
Log into your Twitch account and access the drop-down menu.
Select the Settings option.
Now on the next screen, hover over to Channel and Videos.
Select Preferences > Channel.
Then, turn on the Store Past Broadcasts option.
Voila! All your future broadcasts will be saved to your profile automatically.
Auto-Archiving Turned On? Now Download Your Twitch Videos
The following steps (to download videos) will be effective only after turning on the auto-archiving option.
Go to your Twitch dashboard and click the drop-down menu.
Select the Video Producer option from the drop-down menu of your profile picture.
Then, click the More (three dots) option.
Click the Download option.
You will begin to save videos on your computer.
Once your videos are downloaded to your device, you can watch them later or upload them on YouTube, Facebook, and other streaming platforms.
How can I Download Twitch Videos of Others?
Twitch doesn't allow its users to download videos of other streamers. But, if you still want to do it, you may have to resort to a third-party app – Twitch Leecher.
The third-party app boasts a clean interface and outstanding design. Using the Twitch Leecher app, you can download videos of others on Twitch. Also, the support system is highly appreciable as they come to your rescue if you are stuck.
Please note that Twitch doesn't support the app. So to use the app, you must install it, and then only you can download Twitch videos. Here's a simple step-by-step guide to getting the Twitch Leecher app on your computer or laptop.
Go to the Twitch Leecher website on your computer to download the latest version of the Twitch Leecher app.
After downloading the program, you need to open it to run it.
Click Run.
Stick to the on-screen prompts to install the Twitch Leecher program on your device.
After installing, launch the app.
Go to the Search bar.
Now, access Twitch.
You will now get to select Videos.
Right-click on the video and choose the Copy Link Address option.
Return to Twitch Leecher.
Select the URLs tab and paste the link address.
Press the Search button at the bottom.
Once the Twitch video appears on the screen, click the Download option.
It will prompt you to select the resolution size.
Follow the prompts and save the video to your desired folder on the computer.
That's it! You should now be able to download videos of others easily on your computer and watch them later. Unlike other third-party programs, Twitch Leecher has sophisticated customer support to provide instant help whenever you want.