Founded in 1865 by Francis R. Long, Commerce Bancshares is a registered bank holding company that offers personal and business banking, loans, investing, checking, mortgages, and credit cards.
If you are looking for a credit card to deal with various financial challenges, Commerce Bank is your go-to place. Just sign up and apply for a card to receive it in the mail.
After receiving the Commerce Bank credit card, you will have to activate the card online at commercebank.com/activate or over the phone to make purchases and payments.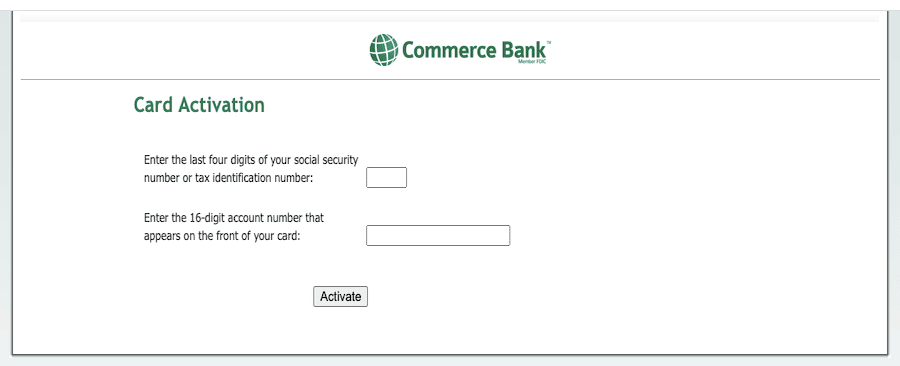 This guide will cover everything to ensure the card activation process is effortless.
Guide to Activate Commerce Bank Card via commercebank.com/activate
Commerce Bank offers a bunch of credit cards suitable for all occasions. If you already have a card by your side, consider activating it before you can make the most of your credit card.
To activate your Commerce Bank Credit Card at commercebank.com/activate, here's what you should do –
Open a web browser on your computer, phone, or tablet and visit commercebank.com/activate.
Enter the last four digits of your SSN or tax identification number.
Next, enter the 16-digit account number or card number. (You should find it on the front of your card).
Click the Activate button.
The system will take a while to verify your details. If the entered details are correct, you will get a confirmation message on the screen. Also, you will receive a card activation confirmation in your email inbox and on the phone.
Now that your Commerce Bank Credit Card is active, you can use the card and earn rewards.
How to Contact Commerce Bank Customer Support
Did you run into a problem while activating your Commerce Bank credit card? Do you need a professional hand to help you out? Here's a quick workaround to contact Commerce Bank customer support.
Note: Commerce Bank renders its support to customers residing in Colorado, Illinois, Oklahoma, Kansas, and Missouri.
Go to commercebank.com/contact-us.
You will see the customer service numbers for different banking needs on the Commerce Bank Contact Us page.
Dial 855-659-1656 to speak with a customer service representative. Follow the on-call prompts and connect with a real agent. Tell your concerns or queries and get the resolution.
Spanish-speaking customers can dial 855-818-7013.
Timing: Make sure you dial the above number Monday through Friday, 8:00 a.m. – 8:00 p.m. If you call on Saturday, dial between 8:00 a.m. and 4:00 p.m.
Email Support: Want to write an email? Click the Email Us option on the Contact Us page.
---
Frequently Asked Questions
Can I activate my Commerce Bank card online?
Visit commercebank.com/activate and enter your SSN and card details. Then, follow the steps carefully and complete the activation process.
How do I make the most use of my Commerce Bank credit card?
– Keep track of your spending.
– Pay your balance every month (on time).
– Use alerts to keep your account secure.
How can I report a suspicious email to the bank?
If you wish to report a suspicious email using the name of Commerce Bank, you can register a complaint by sending an email to [email protected].