TNT (Turner Network Television) is one of the biggest names in the entertainment world. Owned by Warner Media Studios & Networks, TNT makes watching shows, full epodes, movies, and even live sports easier when you get the TNT Drama app on your streaming devices, Smart TV, or gaming consoles.
Installing the TNT app on your streaming devices, such as Roku, FireStick, Android TV, Apple TV, or Xbox One, isn't enough. You will also need to activate the app at tntdrama.com/activate to stream TNT Originals, reality shows, movies, sports events, and Live TV.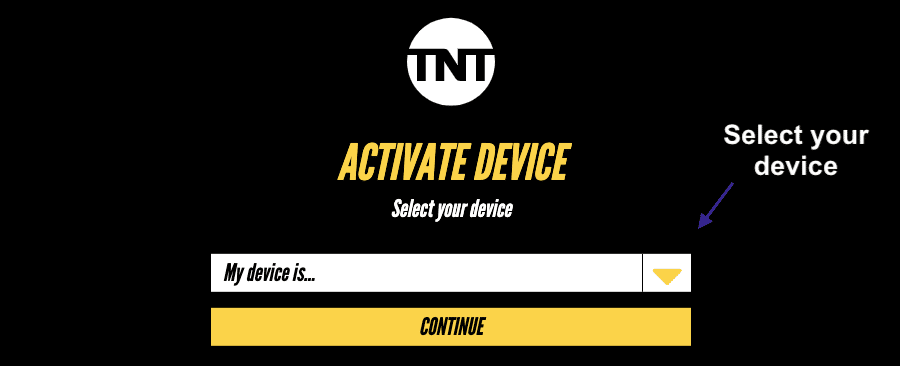 Supporting Devices
Here is the list of all compatible streaming devices where you can watch the latest movies, shows, and videos on TnTdrama –
Amazon Fire TV, Firestick, or Fire Cube
Apple TV
Xbox One and Xbox 360
Roku TV
Android TV
iPhone/ iPad
Samsung Smart TV
Guide to Activate TNTdrama.com on Roku, FireStick, Apple TV, & Android TV [2023]
To complete the TnT Drama activation process, you must keep a few prerequisites handy beforehand.
A valid TNT Drama subscription through a cable provider.
Streaming device (Roku, Android TV, Apple TV, etc.) or gaming console (Xbox One).
High-speed, stable Wi-Fi connection.
You will need a second device to access the tntdrama.com activation link.
Got them? You can now check the steps below to install and activate TNTdrama on your smart TV.
How to Get TNT drama on Roku
Here is a quick guide to add & activate the TnTdrama app on Roku Media Player.
Go to Roku Channel Store and search for the TnTdrama app.
Click Add Channel to get the TNT drama channel app on Roku.
Once added, click the Go to Channel option to launch the app.
Inside the app, select Activate your device from Settings to generate a unique activation code.
Next, open a web browser on a separate device (such as a computer or smartphone) and navigate to www.tntdrama.com/activate.
On the activation page, choose Roku and click Continue.
Enter the activation code displayed on your Fire TV and follow the prompts to link your TV provider.
Within a few seconds, your Roku device will be ready to stream TNT drama content.
TNTdrama.com/activate FireStick
To watch TNTdrama on your Fire TV Stick device, install the TnTdrama app from the Amazon app store and activate your device at tntdrama.com/activate using the activation code.
Tap the Home button on your Firestick remote and go to App Store.
Use the virtual keyboard to look for TNT Drama from the search box.
Select the TNT app and press the Get button to install the app.
After installation, open the app on Fire TV.
Go to Settings and click on Activate option to get an activation code on your Fire TV screen.
Visit tntdrama.com/activate on another device.
Select Amazon Fire TV and click Continue.
Enter the activation code from your TV and click Submit.
Finally, sign in with your TV provider credentials.
Once your device is active, you should be able to watch TNTdrama content on your Fire TV without any issues.
Activate TNT on Apple TV
Roku & Fire TV aren't the only streaming devices to watch TNT originals. If you own an Apple TV, here's a step-by-step guide to activate TNT Drama on Apple TV:
Go to the App Store on your Apple TV.
Search for the TNT Drama app in the App Store.
Click the Get button to download and install the app on Apple TV.
Launch the app and follow the prompts on your TV to link your TV provider via an activation code.
Once you have the code, open tntdrama.com/activate on your mobile or laptop.
Choose Apple TV, enter the code and click the Submit button.
Select your TV provider and sign in to complete the process.
After successful activation, you can watch TNT Drama on your Apple TV.
TNTDrama.com Activate on Android TV
Android TV users can check the steps below to activate TNTdrama on Android TV.
Turn on your Android TV and navigate to the home screen.
Access the Play Store and search for the TNT app.
Click the Install button.
After installing the app, launch it.
Navigate to Settings and click the Activate Device option.
A unique activation code will appear on your TV screen.
Open tntdrama.com/activate on a computer or mobile device.
Select Android TV from the drop-down menu and click the CONTINUE button.
Now, enter the code and click Submit.
Select your TV provider and log in to your service provider account.
---
How to watch TNT on iPhone or iPad (iOS Device)
Here's how to enjoy classic favorites like Bones and Charmed on your iOS devices.
To stream TNT on an iPhone, download & install the TNT app from the App Store.
Once installed, open the app and sign in with your cable or satellite TV provider's credentials.
Once you are signed in, you will have access to the full range of programming on TNT, including live shows and on-demand episodes of dramas like The Alienist, Claws, Animal, and Snowpiercer. In addition, you can watch shows on your iPhone or connect your iPhone to a compatible TV to watch on a larger screen..
Note: If you do not have a cable or satellite TV subscription, you can sign in with a streaming service such as Hulu + Live TV, YouTube TV, Sling TV, or AT&T TV Now.
---
TNTdrama Activation Failed – How to Troubleshoot?
You may be unable to activate TNTdrama at tntdrama.com/activate for various reasons, such as poor Internet, expired activation code, device issues, or TNT down. Below, we have explained how to troubleshoot the problem.
Check your Internet: This is the first thing you need to check. Make sure there's no connectivity error. If the Internet is experiencing a poor signal, fix the issue before moving ahead with the activation process.
Repeat Steps: Failing to use the activation code properly would also result in an error. You must generate a new code to complete the process.
Restart your Device and Reinstall the App: If the issue is related to your device or the app, you are encouraged to delete the app, restart your device, and install the app again.
If nothing brings a solution, contact your cable TV provider.
---
Frequently Asked Questions
How do I activate TNT Drama?
The simplest way to activate TNT is by generating a code and activating the app at tntdrama.com/activate. You can watch TNT on your game console and streaming platforms using this method.
Where is my Apple TV activation code?
You need to install the TNT app on your Apple TV first. Then, go to Settings and click the Activate option to get the code.