The CTV Television Network is among the most popular Canadian streaming services, allowing you to watch live TV, on-demand content, and sports.
With the CTV app available on streaming devices and smart TVs, it has become the main source of entertainment for Canadians. However, there are times when the CTV app may not work properly. This can be frustrating, especially if you are trying to watch your favorite show or movie.
Here are some steps you can take to troubleshoot and potentially resolve the problem: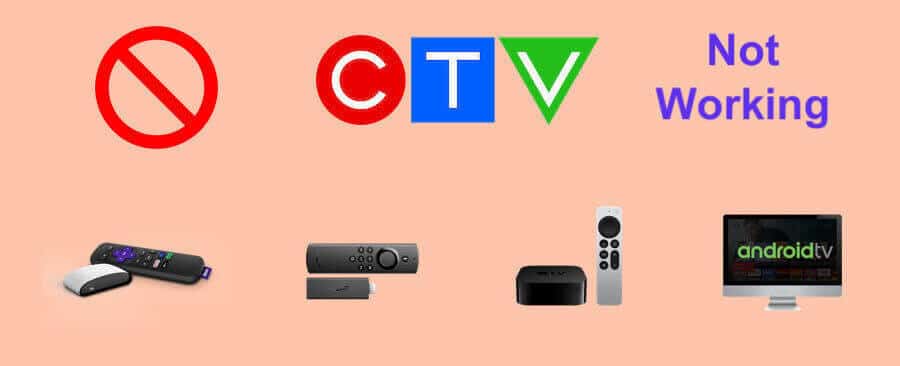 Why is the CTV App Not Working on My Streaming Devices?
The CTV app may not be working due to a variety of reasons. Here are some common factors that can contribute to app issues:
Internet Connection:

 A weak or unstable internet connection can cause streaming apps like CTV to malfunction or not load content properly.

App Glitches:

 Like any software, the CTV app can encounter bugs or glitches that might prevent it from functioning correctly. If the app is not working for everyone, you can wait for the developers to fix the problem.

Outdated App Version:

 Using an outdated app can lead to compatibility issues and bugs. Ensure you have the latest version of the CTV app installed on your device.

Device problems:

 Sometimes, a problem with your device can prevent the CTV app from working correctly. Try restarting your device or uninstalling and reinstalling the app.

Server Issues:

 If CTV's servers are experiencing high traffic or technical difficulties, it can affect the app's performance.

Regional restrictions:

 The CTV app may not be available in your region. If you are outside of the CTV's service area, you cannot use the app.
Common Problems with the CTV App
Some of the common problems reported by CTV users are:
App Crashes or Freezes
Playback Problems
Login and Authentication Errors
App Not Loading
Audio or Video Sync Issues
Showing only some of the content
You need to follow a series of troubleshooting steps to address these issues. These may include clearing cache and data, ensuring the app is up-to-date, checking device compatibility, and contacting customer support if necessary.
Guide to Fix CTV Not Working on Roku, Smart TV, Apple TV
Below, we will discuss all possible reasons and tips that can fix the issue instantaneously.
Use Correct CTV Login Credentials
It might sound too obvious, but checking for the correct login credentials is worth it. Sign-in details are case-sensitive, and if you are in a rush, there are chances of entering the wrong information. Be extra cautious while entering the username and password of your TV provider to avoid typo errors.
Uninstall and Reinstall the CTV App
There are times when the CTV app keeps crashing or fails to load. When such incidents occur, you have nothing else to do except delete the app and install it again.
Here's how you can delete the CTV app from your streaming device.
Locate the channel on your device.
Press and hold it to get options.
Select the Remove Channel/Delete option and confirm.
To reinstall the CTV app,
Look for the CTV app in your streaming device's Channel Store or App Store.
Click the Get/Download button.
Follow the prompts to install it.
Check for Internet Connection
You will require a stable internet connection with decent speeds to stream CTV content on your TV. Usually, 5 – 10 Mbps is recommended for streaming videos in HD. If the internet is slow or not working, restart your Wi-Fi modem/ router.
CTV Service Outage
Sometimes, the CTV service itself might be experiencing technical difficulties. Check the official CTV website or their social media channels for any announcements about service outages or disruptions.
If you have tried all the above steps and the CTV app is still not working, you can contact CTV support for help. They will be able to investigate the issue and offer you further assistance.