Virtual Reward Center is a platform known for offering solutions that provide instant fulfillment, value, selection, and reliability for your rewards.
Generally, you receive a reward when a third-party company contracts with the Virtual Reward Center. For example, if you recently participated in a survey, consumer rebate, instant-win, sweepstakes, etc., you may receive a reward through the Virtual Reward Center.
If you recently received a new Virtual Reward Center card, you must activate it at virtualrewardcenter.com/activate before you can use it. To know the activation process in detail, follow the instructions provided below.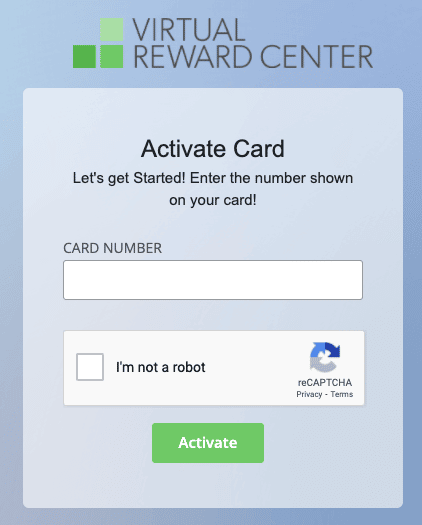 Guide to Activate your New Virtual Reward Center Card
Access the Virtual Reward Center Card activation page – virtualrewardcenter.com/activate.
On the activation page, enter the card number in the prompted field.
Next, tick the checkbox next to the I'm not a robot.
Click the Activate button.
On the next screen, follow the guided prompts to complete the activation process of your Virtual Reward Center Card.
So, these are the steps that you will need to follow at virtualrewardcenter.com/activate to activate your Virtual Reward Center card.
Activation Tips
If you have received your Virtual Reward Center card with an activation sticker, you will need to call the phone number provided on the sticker and follow the on-call prompts to complete the activation process.
However, if you do not find any activation sticker on your reward card, your card is already activated, and you can use it for purchases and payments.
---
How to Contact Virtual Reward Center for Help?
While the instructions mentioned above should help you activate your Virtual Reward Center card, if you are facing trouble activating it, contact the Virtual Reward Center customer service by following these steps.
Visit cardholder.virtualrewardcenter.com.
Click on the Contact Us option located at the bottom of the page.
Doing so will display a pop-up on your screen where you will find the following contact medium:

Email: [email protected]
Hours of Operation: Monday to Friday: 08:00 AM to 08:00 PM (Eastern Time)

Alternatively, you can click on the FAQs option located near the top-right corner for an answer to common queries and concerns related to the Virtual Reward Center card.
Depending on your query, select an appropriate option and follow the information provided to get a solution for your problem.
Refer to the FAQs provided below for common queries related to your Virtual Reward Center card.
Are there any restrictions on the usage of the Virtual Reward Center card?
Some of the merchants where your Reward card could be declined include:
– Car Rental Agencies
– Pawnshops
– Bridge and Road Fees, Tolls
– Lodging – Hotels, Motels, Resorts
– Money Transfers
– Insurance Sales, Underwriting, and Premiums
– Securities – Brokers/Dealers
– Real Estate Agents and Managers – Rentals
– Direct Marketing – Outbound Telemarketing Merchants
– Public Warehousing – Farm Products, Refrigerated Goods, Household Goods Storage.
---
Frequently Asked Questions
Where can I use my Virtual Reward Center card?
You can use your Virtual Reward Center card at any US-based merchant where Visa or MasterCard debit cards are accepted. However, certain restrictions may apply. Also, you can make purchases at online merchants.
Why is "Debit" mentioned on the front of my card?
Card issuers must label non-credit products with the term "Debit.". However, when making a payment online, you can choose either credit or debit to complete a transaction.
Can I withdraw cash from it at an ATM?
No, you can neither exchange this card for cash value nor withdraw cash at ATM.
Can I register and use this card outside the US?
No. You can only use this card to make purchases in the US or at US-based online merchants. Also, it can be registered to US residents only.
How is my Virtual Reward card different than a credit card?
The main difference between a credit card and a Virtual Reward card is that while a credit card offers you a line of credit in advance that you have to pay back as per your usage within a specified period, a debit card has the funds loaded to it. Therefore, you can spend the funds within the available balance.
Will I be getting a paper statement for my card?
All the transactions you make using your card can only be checked online. Just sign in at cardholder.virtualrewardcenter.com and select the card image to view the transaction history.