Optus is an Australian telecommunications company, a wholly-owned subsidiary of Singtel. The company is located in Macquarie Park, New South Wales, and is the second-largest wireless carrier in the continent, with more than 11 million subscribers as of 2022.
If you wish to join one of the leading network holders in Australia, opt for a new SIM card. Then, activate your Optus SIM card online at optus.com.au/activate before making calls or sending texts.
This Optus SIM activation guide will also be handy if you need to replace your damaged or lost SIM card. So, stick around and learn how to get started with your new SIM card.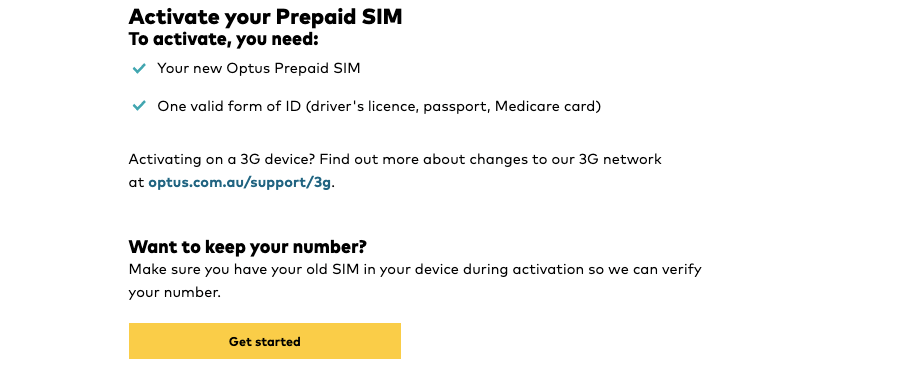 Things Needed to Activate Your Optus Prepaid SIM Card
You should possess the following things to activate your New/Replaced Optus SIM card.
Must have a valid ID – Passport, Driver's License, or Medicare Card.
Keep the new SIM card.
Your credit or debit card.
A mobile or computer to access optus.com.au/activate.
You should only continue the activation steps if you confirm the prerequisites.
---
Optus.com.au/activate
To activate your new Optus Prepaid SIM Card,
Visit optus.com.au/activate on a web browser and click the Get Started button.
Enter your SIM number. (Your SIM number should be a 13-digit or 19-digit number.)
After entering the number, click the Valid SIM button.
Now, choose a prepaid plan.
Upload your photo ID to verify your identity.
Now, follow the on-screen prompts to activate your Optus SIM card.
Alternative Way to Activate Optus SIM Card
Need a professional hand? Well, reaching out to a real agent is easy.
Access the Optus website and click the chat icon at the bottom.
A popup message screen will appear.
Select the right option to get instant assistance.
If you use the My Optus app, you will receive instant responses from Digital Assistant, access your recent messaging history, and connect with an Optus expert for a quick resolution.
---
How to Replace Your Optus SIM Card?
There are two ways to replace your old Optus SIM card with a new one. And don't forget to activate it at optus.com.au/activate before using it.
Replace SIM card over the Phone: The phone service is the most effective way to replace your old Optus SIM card. All you need to do is dial the number (133 937) and connect to an expert for help. Then, follow the expert instructions to replace your SIM card. The process shouldn't take more than 2 minutes.
Visit Optus Store to Replace SIM Card: If the phone method doesn't work, visit the nearest Optus store. Go to this link and enter your postcode in the search bar. Find the nearest Optus store and meet a customer representative to activate your new SIM card.
---
How to Contact Optus Customer Support
The quickest way to reach out to a real Optus customer support agent is by phone. Dial 1800 555 937 and connect to a customer care representative.
You can also access the Contact Us page and seek help with Sales, Business Support, Moving & Disconnecting, Technical Support, and Customer Service.
---
Frequently Asked Questions
How do I activate My Optus Yes SIM card?
There are 3-ways to activate your Optus Yes SIM card –

– Activate Online at www.optus.com.au/activate.
– Visit the nearest Optus store.
– Call on the number given on the card.
How do I know if My Optus SIM card is activated?
You will see Optus next to the coverage bars if the SIM card is active. You should turn your device off/ on periodically.