Run by Nectar 360 Ltd, a company wholly owned by Sainsbury's, Nectar is the largest loyalty card scheme in the UK. It comprises 300+ brand partner companies, including Esso, eBay, and Sainsbury's.
Nectar was launched in 2002 and has become a must-have possession if you frequently shop at any brand partners such as Sainsbury's, Expedia, eBay, etc., or buy petrol at Sainsbury's and Esso.
When you use the Nectar card, you earn reward points, which can be redeemed to make your life easier and more comfortable.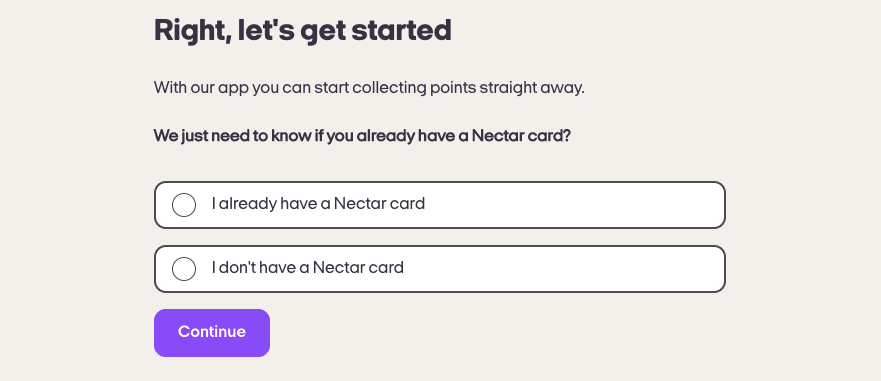 Let's learn how to apply for a Nectar card and activate it online at nectar.com/activate to get started.
nectar.com/activate – Let's Get Started
Refer to the following steps to register your newly received Nectar card.
Visit nectar.com/activate on a computer or mobile device.
Select the "I already have a Nectar card" option and click the Continue button.
Enter the last 11 digits on your plastic card after 98263000.
After entering the card number, click the Continue button. (If you need any help with your card number, click the link that says "Need help with your card number?")
Follow the on-screen guidelines and enter the required details to activate your Nectar card.
Your card is activated and ready to use at your preferred stores.
How to Apply for a Nectar Card?
With so many rewards every day, you should immediately opt for a Nectar card. Well, there are three ways to get a Nectar card –
Join Nectar Online: Go to nectar.com and complete the registration form. Once completed, you will be sent a Nectar card within 14 days.
Join in Store: If you can't join online, you can apply for the card in Sainsbury's store. So, the next time you are in the store, pick up a registration pack and fill in the form. After completing it, you should return the form to the authorized person.
Join via the Nectar App: Another way to get a Nectar card is to download the Nectar app and follow the on-screen prompts to order a card. You can download the free app from the Play Store or App Store.
---
Steps to register for a Nectar Card Online
Open nectar.com and click the Join Nectar button.
Please select the I don't have a Nectar card option and click Continue.
Enter your email address and tap Continue. (You need to verify your email address to keep your new account safe.)
You will now receive a verification email from Sainsbury's at Nectar.
Open the email, and click the link to continue with the registration.
Now, choose an account – Nectar or Nectar Business.
Provide your details – first name, last name, and date of birth.
Click the Continue button.
Please enter your postcode, property number, or name and click Find my address.
On the next screen, confirm your address and click Yes, continue.
Complete the remaining easy steps to register for a Nectar card.
Your new Nectar card will arrive within 14 days. Once you have received the card, you need to activate it at nectar.com/activate to earn reward points.
How to Retrieve Nectar Card Number?
If the card is lost or stolen, you can opt for a new card with the same card numbers. Here's how you can retrieve your Nectar card number.
Go to the retrieve card page.
Enter your Last Name, DOB (dd/mm/yyyy), and postcode in the file.
Click the Next Step button and stick to the on-screen prompts to retrieve your Nectar card number.
You will receive a new Nectar card within days if you provide the correct details.
With your Nectar card, you can enjoy shopping with over 350 partners and collect your bonus points. However, the amount of points varies from shop to shop and partner to partner. So better use the card carefully and make the most out of it.
Frequently Asked Questions
How can I log in to my Nectar account?
You can log in to your Nectar account by using the following steps.

– Open the Nectar login page – account.sainsburys.co.uk/nectar/login.
– Enter your Email Address and Password.
– Click the login button.
How can I manage my Nectar account?
You can manage your Nectar account online if you have registered for an account. Go to your manage your account page, enter the login details, and there you go.
How can I redeem my Nectar card reward points?
You can spend your Nectar reward points in the following ways –

– Meals out.
– Shopping at Sainsbury's, Expedia, and eBay.
– Flight tickets and holiday bookings.