ENT Credit Union, commonly known as ENT, is a credit lending company known for meeting the financial needs of Ent Air Force Base. Since its foundation, the company has expanded to cater to communities along the Front Range.
Currently, ENT has over 400,000 members with more than 40 service centers. Some of the products and services offered by ENT include Banking, Checking, Credit and Debit Cards, and Loans.
If you have received a new ENT card, you need to activate it at ent.com/activate before using it for online or offline payments.
To know how to activate the ENT card online, follow the instructions provided below.
Guide to Activate Your ENT Debit or ATM Card
There are two ways to activate your ENT card – visiting the ent.com/activate page or using the phone service. While activation through the phone is a quick process, you must be registered for online banking if you wish to activate your ENT card at ent.com/activate.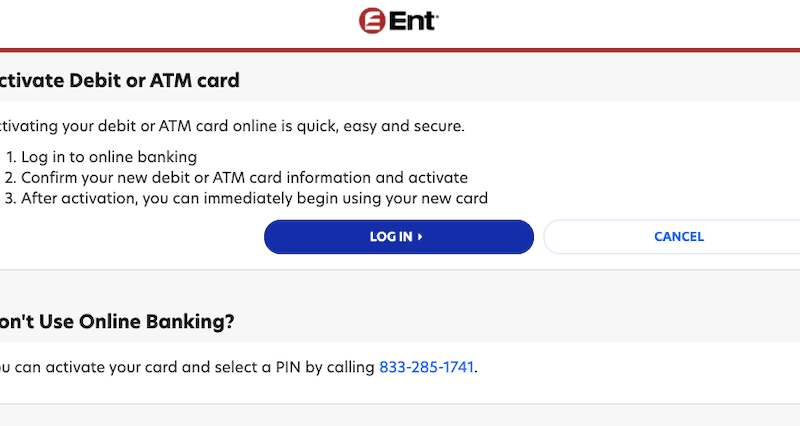 How to Sign Up for ENT Online Banking?
Go to the ENT online banking registration page.
Fill out the registration form with information such as – account number, first name, last name, last 4 Digits of SSN, birth date, zip code, home phone number, and email address.
After entering the required information, click on the SUBMIT button.
Then, follow the on-screen prompts to complete the registration process.
Your ENT online banking is now active.
So, now that you have an ENT online banking account, you can follow the steps suggested below to activate your ENT Card:
ent.com/activate
Before following the below-mentioned steps, please keep your card details ready, as you will be prompted to provide them during the activation process.
Go to the ENT Card activation page – ent.com/activate on a web browser.
Click the login button on the activation page.
On the next screen, enter your Username and tap the CONTINUE button.
Then, enter the password to sign in to your Online Banking account.
Once logged in, go to the Services tab.
Under the Services tab, select Card Controls.
Here, you will need to confirm your new debit or ATM card information and submit it to complete the activation.
Post-activation, you can begin using your new ENT card.
Activate Your ENT Card over the Phone
You can also activate your new ENT debit card by calling 833 285 1741. Keep your card information handy when following the on-call prompts to activate your card.
---
Frequently Asked Questions
My ENT card is about to expire. How will I get a new one?
ENT will send your new card 10 days before the expiration of your old card. So make sure to activate your new card before using it. Alternatively, you can order a new debit card by calling ENT or getting it issued instantly at a Service Center.
What is a Call Center Password?
A Call Center Password is a verification password configured by you. It is used to identify your identity when contacting ENT by phone. If you wish to set up your Call Center Password, you can visit any nearest Service Center or sign in to your Online Banking account.
How can I get my name updated in my account?
To get your name updated in your ENT account, you must provide legal documentation of the name change and a current government-issued ID containing your new name.
How do I add/change the designation of a beneficiary?
Only the Primary Account Holder can request a change in beneficiary designation. If you have a nearby ENT service center, you can visit with a valid government-issued ID. However, you can call 800 525 9623 for assistance.