Tenplay or 10 Play is a multi-platform catch-up TV and a video-on-demand service from Network 10 or Channel 10, an Australian TV network owned by Ten Network Holdings.
The 10 Play video app is available on different streaming devices, smart TVs, and video game consoles such as Telstra, Apple TV, Fetch, Samsung TV, FireStick, Android TV, Foxtel, and LG TV.
To stream the best of 10, 10 SHAKE, 10 PEACH, and 10 BOLD on your Smart TV, you must install the 10 Play app from the app store of your device and activate it at 10play.com.au/activate.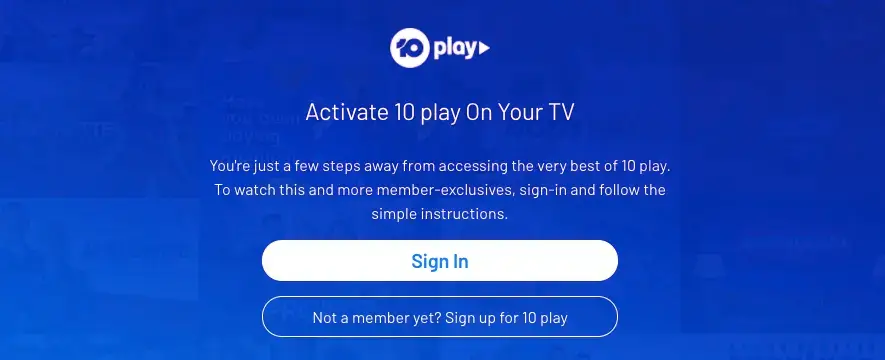 Guide to Activate 10Play.com.au (Network Ten) on Telstra, Apple TV, Android TV, & FireStick [2023]
Before you begin streaming popular shows, news, and sports, you must activate the 10 Play app on your device. The activation process will be carried out successfully if you possess the following prerequisites.
10 Play account details or sign-in credentials.
A compatible streaming device – Apple TV, Android TV, Samsung TV, Telstra TV, Fetch, firetv, etc.
You will also need a computer or mobile phone to access 10play.com.au/activate.
Both the computer and device must be connected to a stable internet throughout the activation process.
Here are simple instructions you would like to follow for streaming 10 Play shows and full episodes on your device without a hassle.
10play.com.au/activate Apple TV
Binge full seasons of exclusive shows and extras on your Apple TV by activating the 10 Play app using the steps below –
Turn on your Apple TV and go to the home screen.
Navigate to the App Store.
Search for the 10 Play app in the App Store.
Select the 10 Play app from the search result.
Press the Get button to download & install the app.
After installation, launch the app to get a code on your TV screen.
Now, head over to 10play.com.au/activate on another device.
Provide the sign-in credentials if you haven't signed in already. (If you don't have an account with 10 Play, tap on Not a member yet? Sign up for 10 play.)
Enter the activation code and tap the Activate button.
10 Play app is now active on your Apple TV. You can watch Live TV and on-demand content on your TV.
Activate on Android TV via 10play.com.au/activate
Another compatible device that supports the 10 Play app is Android TV or Google TV. You must follow the steps below to enjoy popular shows and full episodes.
On a computer or mobile device, visit 10play.com.au/activate and stay logged in.
Turn on your Android TV and go to Google Play Store.
In the Play Store, search for the 10 Play app.
Install the app on your Android TV and launch it after installation.
Inside the app, follow the prompts to generate a unique activation code.
Once you have the code, return to your second device and enter the code.
Click the Activate button.
A success message will appear on the screen.
After successful activation, your TV screen will refresh, and you can now stream all four channels on your Android TV.
10play.com.au Activate on Fire TV
The following steps will help you stream 10 Play on Amazon Fire TV or Firestick –
Go to the Amazon App Store on your Firestick device.
Look for the 10 Play app and install it.
You will need to launch the app and select the sign-in option to get an activation code.
Open your computer and access 10play.com.au/activate.
Click Sign In and enter the Network 10 sign-in credentials (Email address and password).
Once logged in, enter the code displayed on your TV screen.
After entering the code, click the Activate button.
Your Fire TV is now activated. You are ready to stream shows like Have you been Paying Attention, Law & Order: Special Victims Unit, Gogglebox Australia, Making it Australia, The Late Late Show with James Cordon, and more on Amazon FireStick.
How to Activate 10 Play on Telstra TV (Powered by Roku)
If you use a Telstra TV, check the steps below to watch 10 Play.
On your Telstra TV, install the 10 Play app.
Launch the app on your TV and play any video.
You will see an activation code on your TV screen.
Visit 10play.com.au/activate and sign in with your email address and password.
Enter the code shown on your TV and click Activate.
It will take a while to activate 10 Play on your Telstra TV.
---
Frequently Asked Questions
Is 10 Play free?
Yes, it is a free VOD service from Channel 10. However, you must create your personal sign-in details to stream full episodes.
Why can't I stream 10 Play on my TV?
You will have to carry out a simple activation process before streaming 10 Play on your TV. Here's what you need to do –

– Install the 10 Play app on your device.
– Launch it to get a code.
– Now, go to 10play.com.au/activate.
– Enter the code and get started.
How do I troubleshoot the activation code invalid error?
The 10 Play activation code is valid for 30 minutes. After that, you must regenerate the code and begin the process again.
Can I watch Watch Tenplay in the USA?
10 Play VOD service is unavailable in the United States due to geo-restrictions and content distribution policies. If you still want to stream 10 Play in the USA or Canada, use a VPN service.